Social Venture Challenge at Gordon College to Award $10,000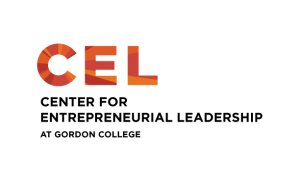 With a vision for "instigating impact," the Center for Entrepreneurial Leadership (CEL) is hosting its second annual Social Venture Challenge, offering a $10,000 prize to be split between the three teams that make the most compelling "pitches."
More than 23 teams from over 21 different academic majors entered the competition last December. After significant coaching, workshops, testing, research and refinement, only five teams (see below) remain to compete in the Final Showcase. The winners will be announced at a special pitch competition on April 22, 2015.
"The Social Venture Challenge is designed to accelerate new and noble ventures," said Carter Crockett, founding director of the Center for Entrepreneurial Leadership. "This is the biggest event of our year—our best opportunity to celebrate passionate students with great ideas and the determination to bring them to life."
Entries include drinking straws that offer a healthy energy boost, public art for reconciliation in Sri Lanka, and a new school for offering the best of the liberal arts to mature learners on the North Shore. The judges flying in to decide the winners include executives from fashion giant Kate Spade New York, as well as Tegu Toys of Honduras.
A reception at 6:30 p.m. in the Ken Olsen Science Center Loggia will lead into the Final Showcase at 7 p.m. in the adjacent Chairman's Room. The event is free and open to the public.
Damilola Junaid's team, ARISE, took first place last year. Her venture partnered with a well known Nigerian celebrity to create a social media campaign to challenge the stigma keeping young people from being tested for STDs in her home country. Today, she works at Brigham and Women's Hospital, but continues to take the steps that will allow her to work in public health in Nigeria and dedicate more of her time to the work of her new nonprofit, ARISE.
"The Social Venture Challenge made me realize that I don't need to have amassed multiple degrees or be much older in order to make a difference in the world today," said Damilola. "It has also given me the opportunity to be more aware of the social issues facing Nigerian youths and their response to wanting to learn more about ARISE, and be a part of the movement has been inspiring and motivational for me and my team in keeping our vision alive."
"I'm a firm believer that students should have the courage to chase their dreams, and to start early in life," Crockett said. "Entrepreneurial thinking is an increasingly valuable asset today, and the practical nature of this program perfectly complements our student's convictions."
This slideshow requires JavaScript.