Mekdes Getanah '14: Bringing Hope in the Midst of Suffering
"Today, there are more than five million people in this country living with Alzheimer's disease. This neurodegenerative disease is not only devastating for the patient; the emotional burden can be overwhelming for their loved ones." Mekdes "Duni" Getaneh '14 explains that burnout often causes friends and family members to decrease the amount of time they spend with Alzheimer's patients. "A lack of regular one-on-one visits contributes to depression, hopelessness and loneliness among Alzheimer's patients," Duni explains.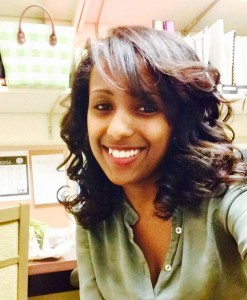 But she's on a mission to change that—and she's gathered a small army of volunteers to help. They're known as the Gordon College Alzheimer's Buddies, or GCAB. They represent the first college chapter of the National Alzheimer's Buddies, Inc. (where Duni serves on the Executive Board), and together they're combatting the social disengagement and isolation that Alzheimer's patients often experience.
A student-run organization, GCAB partners with Essex Park for Nursing and Rehabilitation in Beverly, MA. Each GCAB volunteer is connected with an Alzheimer's patient at Essex Park—their "buddy"—based on shared interests and hobbies. The pairs meet weekly. GCAB volunteers log journal entries after their visits, participate in weekly reflection meetings, and have opportunities to attend conferences and symposiums sponsored by the National Alzheimer's Buddies and Harvard Medical School.
"What I love about this program is the intergenerational approach. The program allows students to learn from their buddies with Alzheimer's, and vice versa," Duni explains. "Our students focus on what is still intact in their buddies, and work to positively influence their lives, rather than emphasizing what has been lost due to illness. That builds confidence and hope in our buddies."
Duni's vision for GCAB began to develop during her sophomore year at Gordon, when she worked with a woman who was battling another devastating disease: Parkinson's. Duni served as her companion—someone with whom she could share time, stories and meals. "Having genuine companionship was what this woman needed in her stage of life," says Duni. "And I started to realize how much I loved it, too. The friendship I had with her changed me on so many levels, and it inspired me to impact more lives."
During her junior year, Duni began working as a therapeutic recreation assistant at Neville Center for Skilled Nursing and Rehabilitation in Cambridge, MA—a position she still holds today—and started drumming up plans for GCAB, which launched in the spring of 2014.
A native of Addis Ababa, Ethiopia, Duni studied biology with a concentration in pre-med and a minor in chemistry at Gordon. In addition to her work at Neville, she is also a clinical research coordinator for the Adult Leukemia Group at Dana Farber Cancer Institute in Boston, MA, where she continues to meld her knack for science with her compassionate spirit.
"Never underestimate the value of spending quality time with someone in pain," Duni offers. "Simple acts—like taking a walk outside, sharing a cookie, or just having a conversation—go a long way."
Interested in learning more or joining GCAB? Contact one of the directors (Gabrielle Capone, Helen Collins or Daruenie Andujar) or faculty advisor Dr. Craig Story.