National Biomechanics Day at Gordon
Biomechanics, the study of how the body moves, is one of the 21stcentury's newest and most exciting scientific fields. To help commemorate National Biomechanics Day (NBD) in April—a worldwide celebration dedicated to exploring the potential for science and physical education—a group of Gordon students and faculty welcomed a bus of middle-school students from Lynn Public Schools to campus.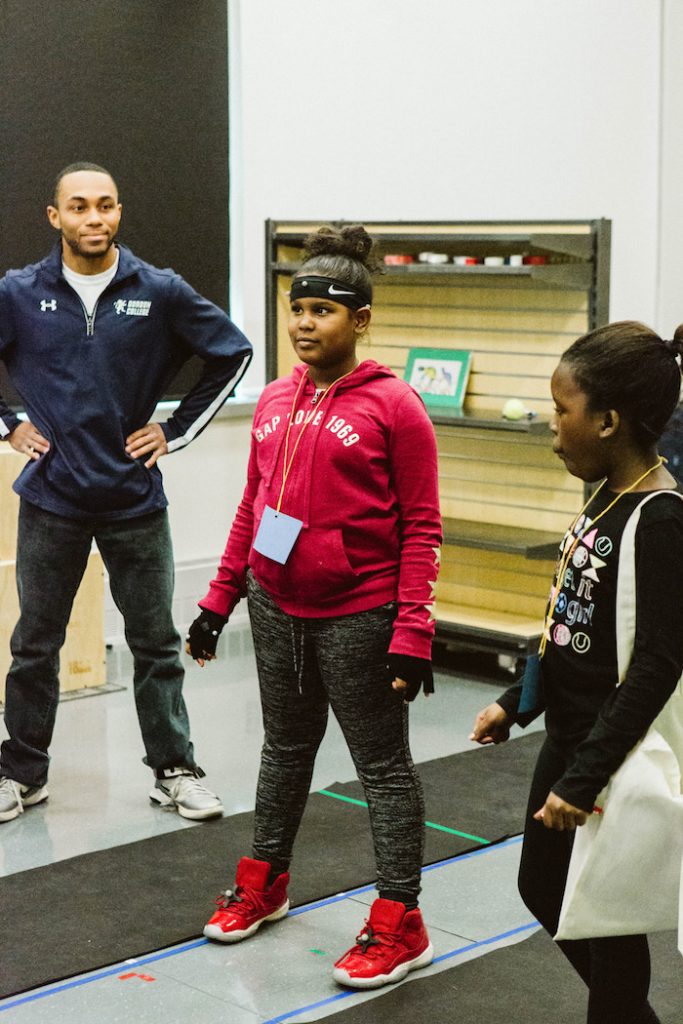 Dr. Jessica Ventura (kinesiology) constructed an experience that allowed young students to see first-hand how science is already a part of their everyday lives.
Partnering with Greg Bish, director of service learning, and Carmen Ayerve Queen, who coordinates Gordon's community tutoring efforts called College Bound, "one of the goals for the event was to show young students one career they can pursue through studying math and science," said Ventura.
To accomplish this, Ventura, Bish and Queen set up four learning stations in the Ken Olsen Science Center, each of which offered a glimpse into the field of biomechanics. For example, one station used motion capture technology to record the students' motion and illustrate how they interact with the unseen force of gravity.
"As part of our community tutoring," Queen said, "we have focused on developing opportunities for the children we work with to be exposed to creative, educational experiences through partnerships with on-campus departments."
As such, each of the different stations were managed by kinesiology students and College Bound tutors.
In the past three years, National Biomechanics Day has given upwards of 10,000 young high school students and teachers across the country an up-close look at physical nature of life. Queen says that Gordon is planning on participating again next year, and "would love to open this event to other students from other community programs and specifically target high school students."
By Billy Jepma '18, English language and literature, communication arts
Images courtesy of Deepak Bardhan '20, communication arts