How a Career Path Can Grow in the Liberal Arts—Including International Honors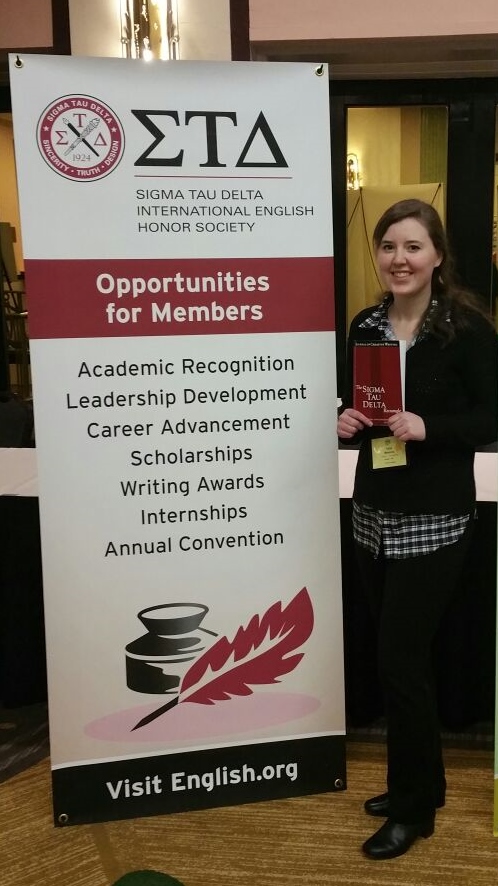 At age nine, an elementary school student with pen and paper in hand created a short story about a man with no name. Being in third grade, Talia Messina '18 wasn't thinking about sharing her story with the world; she was busy doing what nine-year-olds do. She shared it with her mother, but then neatly folded the paper and placed it in a box filled with doodles and writings—where it would remain throughout her childhood. Eleven years later, Messina walked into her first creative writing course. What she didn't realize is how the course would reshape her academic path and lead to a recognition from the international English Honors Society and her debut publication.
"I was a kinesiology major when I first arrived at Gordon," said Messina, whose new friends at Gordon enjoyed reading her writing and insisted she might be in the wrong major. Instead of a career in nursing, these friends envisioned a different career idea for Messina—a life as a writer. "Truth be told, I only registered for Gordon's Creative Writing course due to my friends nagging and insisting how much I might enjoy it." Turns out, they were right.
At a liberal arts institution where vocation unfolds in a student's academic journey, Messina recently received the Herbert L. Hughes Award: Short Story Award for "best original fiction," from Sigma Tau Delta—the international English honors society. She was selected to be one of nine college/university students to have her story, Man With No Name, published in Sigma Tau Delta Rectangle (p. 75) and cataloged with the Library of Congress.
Messina also received a 2018 Distinguished Achievement Award from Gordon's Alpha Upsilon Omega chapter in recognition of her outstanding accomplishments as a writer, especially the publication of her story.
She recently returned from the annual Sigma Tau Delta International English Honors Convention in Cincinnati, where she was asked to read The Man with No Name at the opening ceremony. She says it was "the best moment of my life." While there, Messina presented another short-story, The Skylark and Her City, which was accepted to the convention, and included a panel reading.
As the first Gordon student to receive such an award, she was honored for "advancing, in some extraordinary way, the interests and prestige of Alpha Upsilon Omega beyond the campus of Gordon College" said Dr. Chad Stutz (English) during the ceremony speech in April.
Messina, soon graduating with her degree in English and a minor in psychology, says she "praises the Lord for this blessing and the affirmation of her talent," and is grateful for the guidance of her professors.