On Trial: How Generosity Fueled COVID-19 Vaccine Development
On February 17, Dr. Katy Stephenson shared a video of South Africa receiving its first delivery of the Johnson & Johnson (J&J) vaccine on Twitter. "I actually teared up on a bus on my way to work when I saw it," says Tatenda Makoni '17. "It hadn't really hit me that I had worked on the Johnson & Johnson vaccine—that I had dedicated a part of my life to this."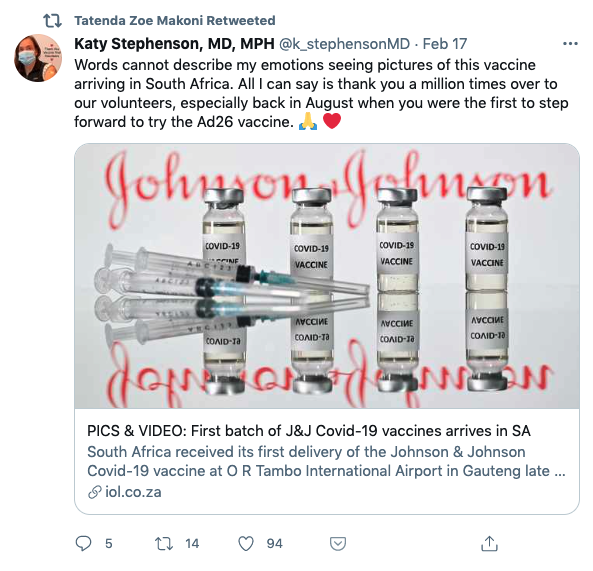 Six months prior, Makoni had been recruiting volunteers for a phase one clinical trial of the J&J vaccine at Harvard Medical School's Center for Virology and Vaccine Research, working as a clinical research assistant under Stephenson. There, Makoni reached out to volunteers over the phone to ensure their eligibility for the study and answer questions about the trial. Her goal was to make sure volunteers knew what they were getting themselves into before coming in for a screening visit with a physician.
The J&J trial Makoni was part of needed roughly 25 patients to run, but more than 43,000 people worldwide took part in clinical trials for the J&J vaccine. And that sum of volunteers gets a lot larger when you add in the participants for the Pfizer, Moderna, AstraZeneca, Janssen and Novavax vaccines—all of which have either been approved by the Food and Drug Administration to protect people against COVID-19 or are soon to be, given how well their third phase clinical trials are going.
"If it weren't for clinical trial participants, we wouldn't have a vaccine," says Makoni. "When I see a patient coming in to be part of a clinical trial, that's an act of service."
Why So Many Volunteer, Even Amid Uncertainty
Midway through recruitment for the J&J vaccine in early August, Makoni moved to Baltimore to start her master's degree in public health at Johns Hopkins University (JHU). There, she was hired to help run phase three clinical trials for the Pfizer and AstraZeneca vaccines at JHU's Center for Immunization Research, which are still ongoing. Initially, she assisted with the screening process for volunteers. This gave her the opportunity to talk to candidates one on one and find out why they wanted to be part of the trial in the first place.
Money was never the reason. After all, compensation only covered the cost of travel (e.g. round-trip bus tickets) and a little extra for the time commitment. As it turned out, most volunteers had a genuine desire to help others—that was reason enough.
"What's really cool is that sometimes we'd see families joining together. The entire family. Mom. Dad. Kids," says Makoni. Others volunteered hoping it would convince reluctant family members to get vaccinated. Of all the stories she'd heard, Makoni was most moved by the volunteers who somehow managed to let their kindness override any residual fears they were dealing with. "One of the most interesting things for me is that some people come in with doubts, but they are still willing to participate," she says. "Their willingness to help others offered comfort that I didn't know I needed in this pandemic. It's the hope I needed."
By now, she has heard hundreds of stories. And like her patients, Makoni has her own reason for why she's involved in clinical trials. Growing up in Zimbabwe, she saw loved ones die from HIV. From an early age, it has been her dream to stop that from happening to others. Almost 13 percent of Zimbabwe's adult population, ages 15–49, are living with HIV, which is roughly 1.4 million people. Since coming to study in the United States for college, Makoni has found several opportunities to work on HIV vaccine research, most recently at the Center for Virology and Vaccine Research (CVVR) in Boston. Before the pandemic started in the U.S., she was helping run phase one clinical trials for HIV vaccine and antibody studies at CVVR.
Ultimately, Makoni wants to be a physician in Zimbabwe who can give HIV vaccines to patients of her own. But before that day arrives, Makoni has a master's to finish, and four years of medical school, a residency in internal medicine and a fellowship in infectious diseases ahead of her.
Two Disparate Worlds Brought Together by Two Kinds of Vaccines
"The medical school journey is very long and sometimes it can be hard," admits Makoni. "I'm learning amazing things in the U.S., but I do eventually want to go back home." Most of her professional journey has been one continuous path of delayed gratification—a dream with a thousand steps (and lots of schooling). And it's rare that her work in the U.S. directly benefits people in Zimbabwe.
Yet her involvement in the HIV and COVID-19 vaccine trials has shown her that while she is far away from her final destination, the work she does here and now can improve the lives of people back home. Her contributions to vaccine research can cross oceans and even reach family members on the African continent.
"Seeing the vaccine arrive in South Africa hit me close to home. I have family members there," says Makoni. "And Zimbabwe always follows what South Africa does. So now that the Johnson & Johnson vaccine exists in South Africa, I know Zimbabwe is going to follow."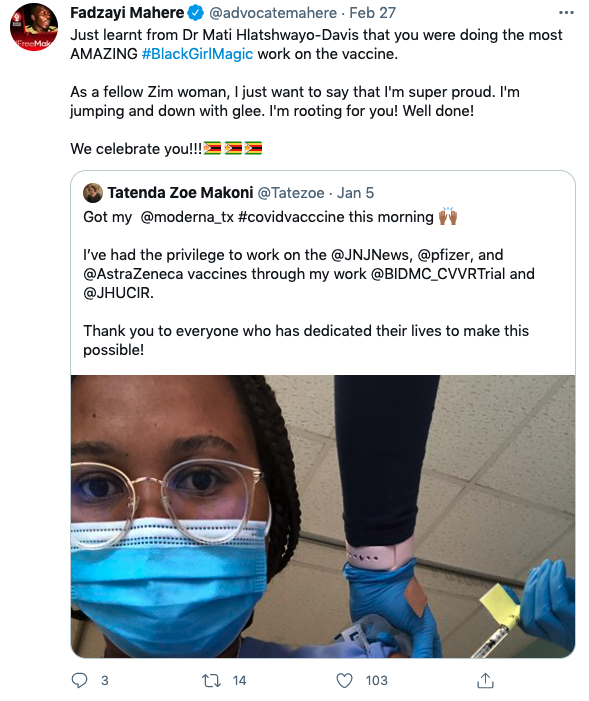 And Makoni is bringing momentum to the issue of vaccination distribution in Zimbabwe through social media. On February 27, her involvement in the J&J, Pfizer and AstraZeneca clinical trials caught the attention of prominent Zimbabwean politician Fadzayi Mahere and BBC news (Makoni's segment starts at about 5:40). Over the last two weeks, Mahere tweeted about Makoni twice to her 365,000 followers on Twitter, saying in one post, "Just learnt from Dr. Mati Hlatshwayo-Davis that you were doing the most AMAZING #BlackGirlMagic work on the vaccine. As a fellow Zim woman, I just want to say I'm super proud. I'm jumping [up] and down with glee. I'm rooting for you! Well done! We celebrate you!!!" Mahere wrote these words in a retweet of Makoni's original post, which documents the day Makoni received her first dose of the Moderna vaccine eight weeks ago.
Getting her COVID vaccine is a moment Makoni will never forget. She explains, "I was very emotional that day. The whole thing happened in less than one year. Seeing so many sacrifice their time to be part of something new, something scary and unknown and being able to say I've been a part of it feels amazing. I'm really grateful to have been a part of history."