Presidential Perspectives: A 50-Year Legacy
In a new series on The Bell, President Lindsay will be bringing a variety of perspectives from his corner office in Frost to the far-flung corners of the world where he travels—and everything in between.
Our Snapchat world has us fixated on today only; panic over missing out has become an existential fear.  Even though we have access to more technology and resources to make our daily lives easier and less stressful, we are dominated by the tyranny of the urgent. So, it's refreshing to be reminded that our legacy is measured not in seconds and minutes but over a lifetime.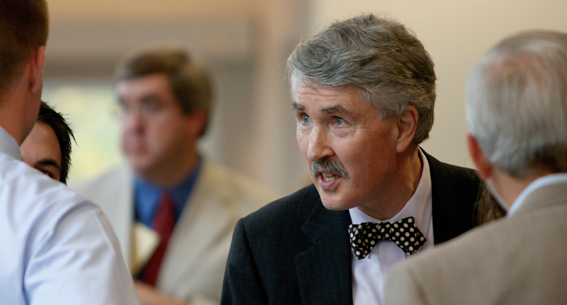 When I first came to Gordon, I kept hearing the name John Mason. Even though he had retired years earlier, this venerable faculty member's legacy held fast. He founded the Economics and Business Department in 1968, helped launch a Gordon-in-Boston program, and initiated the first departmental honors program at Gordon. He was one of the founders of the Association of Christian Economists, and his primary research focused on how economics can help alleviate poverty around the world. His life reflected his love for God, and he was a deeply devoted husband, father and grandfather until his death in 2011. Within the wider academy, Dr. Mason continues to be recognized around the world for his commitment to faith and economics.
Gordon professor Dr. Kent Seibert explains Dr. Mason's influence: "I first met John in 1991. I approached him about offering a brand-new course for Gordon in human resource management. I was a doctoral student at Boston University with no prior experience with Christian higher education, and he graciously gave me the opportunity to get my feet wet in what would become my life's calling. He had this effect on countless people, namely nurturing them to become all that God created them to be."
As department chair, Dr. Mason created a culture of collegiality, forming deep and lasting relationships with students. (To this day, I cannot attend an alumni gathering where his name is not mentioned with fondness.) That spirit of care was particularly striking in light of the typical turf wars that economics and business departments often face at other schools. Not so at Gordon. Thanks to Dr. Mason's irenic spirit, the economics and business faculty have worked well together for decades.  Indeed, in 2018, we will celebrate the 50th anniversary of the department that he founded.
Dr. Mason believed that all work is sacred, and his commitment to the liberal arts fostered a spirit of cooperation and partnership across the campus. Colleagues in fields as diverse as psychology, philosophy and mathematics speak highly of his influence among the Gordon faculty.
We are excited to honor Dr. Mason's 50-year legacy of serving Christ and the common good this week with the annual John Mason Lecture sponsored by the Center for Faith and Inquiry. Even now, those who value the legacy of Dr. Mason return to campus for the event. Among them will be Dr. Ken Elzinga, the legendary economist at the University of Virginia, who was deeply influenced by Dr. Mason while they attended graduate school together. Over dinner with Dr. Elzinga and his lovely wife, Terry, last summer, I was encouraged to learn about the earlier days of Dr. Mason's Christian witness, long before he came to Gordon.
I hope you'll join us on Thursday, March 30, at 4 p.m. in the Ken Olsen Science Center as Dr. Joe McKinney of Baylor University delivers the Mason Lecture on "Globalization, Technological Change and Inequality"—a topic I have to believe Dr. Mason would have loved.