Release Party
On a Friday in mid-December in the midst of the hustle and bustle of finals week, Chester's Place was filled with a different kind of crowd. Students meandered in not because of the rich aroma of coffee nor the beckoning side booths but for art, for community and conversation; Gordon's literary journals Vox Populi and The Idiom celebrated the release of their fall editions with a joint release party. Each publication encourages the greater Gordon community to participate—not solely artists nor those usually classified as writers. Anyone can create and submit a piece for consideration.
Vox Populi is a student-led journal that invites creative nonfiction, social critique and modern photography circulating around a chosen topic. The fall theme encouraged submitters to focus on their interpretation of Hive. Seventeen students and faculty members submitted to this issue, resulting in the publication of ten pieces. Entries ranged from essays on bee conversation and individuality to warrants against superficial small talk and challenging the status quo:
·       The New Academy by Sam Jackson
·       Love in a Time of Veganism by Rachel Lehmann
·       Vermilion by Michelle Waduacharige
·       Thin Waste by Dane Vandenberg
·       Small Talk by Nora Kirkham
·       Challenge the Hive by Lauren Berg
·       Stick with the Crowd by Lily Greenberg
·       Pandas and Dolphins are Easy by Dr. Greg Keller
·       Buzzwords by Joshua Ahearn
·       Worship and the Waggle Dance by Ryan Hein
The deadline for the second issue of Vox Populi, X, is Wednesday, January 14. Submissions may explore the theme in whatever form is most relevant to the author—think exclusion, the unknown, treasure maps. Be sure to put on your thinking cap over winter break and write something e(x)tremely awesome! Submissions can be emailed to [email protected].
In a similar but different vein, The Idiom exists to foster creativity and appreciation for the arts among the Gordon student body and publishes bi-annual editions of submitted work. There is no specific theme for any Idiom edition—rather, a theme emerges. For the Fall 2014 edition, 58 students submitted pieces ranging in disciplines including biblical studies, economics, kinesiology, linguistics and more. Many of the pieces focused on stories relating to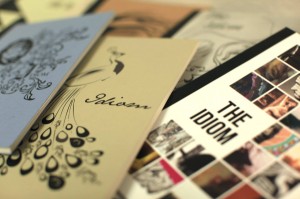 childhood, memory and family, or fear, revelation and solitude.
The Idiom is publishing a special Valentine's Day edition focusing on love poetry. Each submission should be 14 lines or less and focus on something the author loves. Submissions are due by midnight on February 1 and can be emailed to [email protected].
By Rachel Kauffman '15, Communication Arts