Sabbatical Sojourns: Mark Stevick
Over the course of the spring 2018 semester, five faculty members took sabbaticals to engage their fields. We spoke with each professor to learn more about their undertakings to share in The Bell and the upcoming fall 2018 issue of STILLPOINT. This is the fourth installment of "Sabbatical Sojourns."
True to his discipline, Mark Stevick (English) spent much of his sabbatical writing—in particular, poetry and plays.
The highlight project on Stevick's agenda was researching and beginning to draft a play about migrant farmers in Texas during the late 1970s and 1980s. To capture the larger issues they faced, Stevick chose to focus on a case in Hereford, TX, involving ill-treated onion harvesters who were sued for protesting their work conditions. The workers were charged with "attempting to extort minimum wage." "Think about that sentence," Stevick says. "They were sued for asking for minimum wage."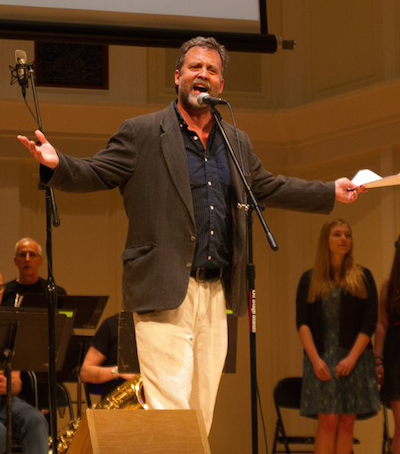 Having lived in nearby Lubbock, TX, at the time of the harvesters' distress, Stevick knew of the tensions between Mexican-Texan farmers and Anglos. Much of sabbatical, he says, was spent locating individuals to interview for firsthand accounts. Stevick anticipates that the finished product will be a verbatim play, using direct quotes from those involved in the episode, the lawsuit and the aftermath—especially harvesters, attorneys and law enforcement.
Stevick also spent time finding a publisher for a book of poetry that he began writing. Many of the poems revisit the people and topography and values—and Anabaptist traditions—of his Lancaster, PA, childhood. "My earliest memories are of the clop and rattle of horse and buggies, and the stink of cow manure, and, in my church, of head coverings and cape dresses and a capella singing," Stevick says. "For a long time all of that seemed unremarkable to me, de rigueur, but as I grow older those particulars and commitments seem worth attending to, and perhaps worth reckoning in poems."
Over his months away, Stevick scattered other scholarly pursuits, including presentations at the Palm Beach Poetry Festival, performances of Nathaniel Hawthorne in The Marble Flock, telling a story for The Moth in Boston, and with the publication of two poems and an essay, which was a finalist for the Earl Weaver Baseball Prize. He also began developing a narrative storytelling course to launch at the Gordon in Orvieto program.