Symposium 2018: Hope in Suffering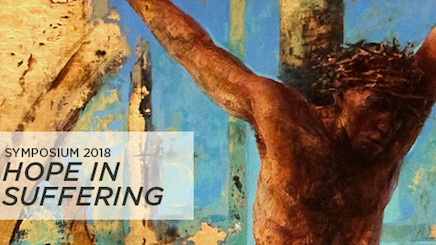 This year's annual Symposium day, hosted by the Center for Faith and Inquiry (CFI), focused on the theme of "Hope in Suffering." CFI's goal was to offer an opportunity for the Gordon community to creatively and intellectually embrace the hope claimed in Christ's sacrifice despite brokenness.
Offering a visual representation of the theme, several pieces of art were displayed in Barrington Center for the Arts. The exhibit "Bezalel: Scenography in the Shadow of Eden" offered a chance to experience scenic design and see the world from another perspective. The piece Life Between Pollution sought to raise awareness about injustices toward Native Americans, while Onward Reflections shed light on the struggles and worries of graduating seniors.
The La Vida staff held their annual Restore Creation walk through the Gordon woods, where the Symposium theme was represented through the life spans of plants and animals along the way. La Vida's objective was for students to not only gain a better understanding of the environment around them, but to also recognize the hope and beauty in life cycles.
Presenting several skits on the theme of suffering, REACH Drama Ministry aimed to provide hope for audiences through  they may be experiencing.
"Usually we perform for high schoolers, but we loved this opportunity to start dialogues with Gordon students," says Elaina Francisco '21, a member of REACH. "Many students asked questions. We played around with more light-hearted skits to emphasize the joy that can be present in the midst of suffering. We definitely enjoyed this and hope our audience did too."
A storytelling hour by students from the Department of English featured stories about lessons of hope that they learned in embarrassing moments, and audience members were invited to participate by sharing stories. The English Department also hosted an event in which poetry served as a beacon of hope and as an opportunity for healing.
Later that afternoon, renowned theologian, scholar and author N. T. Wright presented the Richard Gross Keynote Address on "Signposts from a Suffering World." Over the course of Symposium week, Wright also ministered in Chapel twice and interacted with students.
The lecture addressed Hope in Suffering by discussing "the old puzzle of natural theology." "There are seven features of human life," he said, "which can be observed across different societies and times. I call them vocations, though they're often present as inarticulate aspirations and impulsions. We know them in our bones."
Addressing the seven vocational signposts—justice, beauty, freedom, truth, power, spirituality and relationships—Wright said, "… we all know they matter but we all have trouble with them, and indeed that trouble is at the heart of much of the world's suffering, and it's there that we need to find hope in the midst."
By Megan Harvey '19, communication arts