Teresa Winner Blume Gives the "Gift of Song" at the MFA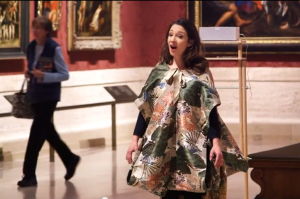 Teresa Winner Blume, applied voice faculty member at Gordon, is being featured at a current Museum of Fine Arts exhibit, "Sonic Blossom" (3/11 – 4/9). The performance art piece, which takes place in the MFA's William I. Koch Gallery, is the brainchild of the world-renowned artist Lee Mingwei, and features some of the most beloved of all of Schubert's art songs.
As patrons enjoy the artwork, the Singer (Blume) wanders among them. She selects a museum patron, and asks if the patron would like to receive a gift of song. If they agree, they are led to a special chair designed by the artist; the Singer performs one of five Schubert lieder for the guest.
Listen to an excerpt of Teresa's performance, read a review in the Boston Globe, and visit her website for more complete information about performance dates and times.