The calling to caring—from emergency medicine to the classroom: "Deepening the Faith" devotional 14
This installment is part of a regular devotional series, "Deepening the Faith," written by Gordon faculty and staff for the enrichment of the wider College community.
It is not the healthy who need a doctor, but the sick. —Matthew 9:12
Truly I tell you, whatever you did for one of the least of these brothers and sisters of mine, you did for me. —Matthew 25:40
When I thought about my future vocation, I always knew I would be in a caring profession. I thought I would be a doctor. I worked for an ambulance service through high school to test out that vocation. I started by working the radios and riding along on ambulance calls. I got certified as an Emergency Medical Technician and served as a crew chief—and my own children love to hear that I used to drive the ambulance!
But I felt that in the field of medicine I wasn't caring for people but for patients at best, and usually just their injuries. That is the nature of working within the "golden hour" between the mechanism of injury and delivery to the emergency room—a critical timeframe for survival rates. I wanted something different. I wanted to find a job where I could get to know people and learn how to care for them better. As I went off to college, I was unsure that medicine was a good fit.
In college, I continued my studies in pre-med but also added coursework in sociology, psychology, human development and education. I was rebuilding my career path, and I knew again that I needed to get practical experience and try out this vision of the future. I worked in a kindergarten classroom (though in my vision I would teach high school) and immediately found joy in getting to know certain students—they were either the quiet and shy students who were paid little attention or the wild students who had worn on teachers' patience to the point that the caring adults were cold and uncaring. In working with these students, I set up behavior plans to help them engage in positive social activities, and I discovered gaps in their academic progress. In some cases, these "problems" had kept them back in kindergarten for a second year, but they were still not getting the support they needed. The classroom teachers had other students to work with and content to cover. These students were already falling through the cracks.
When I moved schools the next year to work in a local middle school, I found myself working with the same population but by this time the students had begun to internalize certain truths about themselves. The words of bullies had gotten hold of students and made them feel like outcasts. I was there to help them find out where and how they are smart. I was there to care for them and to build them up—oh, and to teach them academic skills to drive them toward greater success in the future. The skills might help and knowing that they have someone caring for them will likely do so in equal measure.
I am blessed that I heard the call to care and was able to tune my hearing to properly pursue my calling as a teacher. When people ask me what I teach I tell them I teach students—well, now I tell them that I teach teachers! Instead of filling up the teachers' toolbox with tips and tricks and strategies, I say I develop in these future teachers the heart condition necessary to see every student as one deserving of care. I have found my calling in caring for the ones who have not yet received the care that they deserve.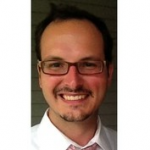 Michael Hildebrandt
Associate Dean & Director of the Center of Teaching Excellence
Michael was called to the North Shore in 2004 to begin teaching at Landmark School. He completed his master's degree in the area of moderate disabilities and literacy issues in 2008, and in 2018 completed a Ph.D. studying self-regulatory practices in various academic contexts. Michael has taught Introduction to Exceptionality at Gordon since 2011, and has also taught at Granite State College, Manchester Community College (NH) and the University of New Hampshire. Michael founded the Center for Teaching Excellence at Gordon College in January of 2014 to continue faculty development in the areas of pedagogy and 21st century teaching.