The Edge Effect to Take Stage at Edinburgh's Fringe Festival
A few of Gordon's most intrepid theatre students will bring their very own play to the international stage—Edinburgh's Fringe Festival. Written and directed by Hannah Pentico '16 and Jessica Richmond '16, their short play, The Edge Effect, is a piece about the fulcrum of life choices, human transitions, turning points and "Catch 22s." Along with their dedicated cast of actors—Kari Mayne '16, Austin Schroeter '17, Kaylah Dixon '17, Drew Cleveland '17, Haylie Petre '16—and crew, Hannah and Jessica plan to ship off to Scotland from August 16 through the 22. They'll take the stage each night with a slew of world-class international theatre troupes coming from far and wide to perform for thousands, maybe even millions.
The Fringe Festival is no secretly hidden, dimly lit underground coffeehouse where black-clad performers bring dud acts for a few snapping fingers. It is the world's largest international coming-together of arts and theatre. Some of the world's most ambitious actors and actresses make a name for themselves there. Last year alone the festival went on for 25 days and over 3,000 shows performed at nearly 300 local venues. A total of 51 countries were represented. "The whole city is saturated in different kinds of theatre," says Hannah.
Dubbing themselves "Pentmond Co.," this group is the first from Gordon's Theatre Arts Department to perform at the famous festival. Since Hannah and Jessica went on Gordon's British Theatre Seminar—which traverses the U.K.'s most famous stages—and saw The Fringe for themselves, they knew right away that they belonged on its many stages.
Written and redrafted countless times by Jessica and Hannah, The Edge Effect has seen a number of evolutions. It's even seen a few other writers contribute with additions, but the play as a whole has stayed close to Hannah and Jessica's initial vision. Having been refined through the gauntlet of Mark Stevick's "Playwriting" course and Jeff Miller's "Directing" course, The Edge Effect has come into its final form as a four-part series of thematic vignettes wrapped by a prologue and epilogue.
"Many college productions make their way to The Fringe but few are written, directed, acted and produced independently by the artists themselves, let alone artists who are also full-time students," says Dr. Miller.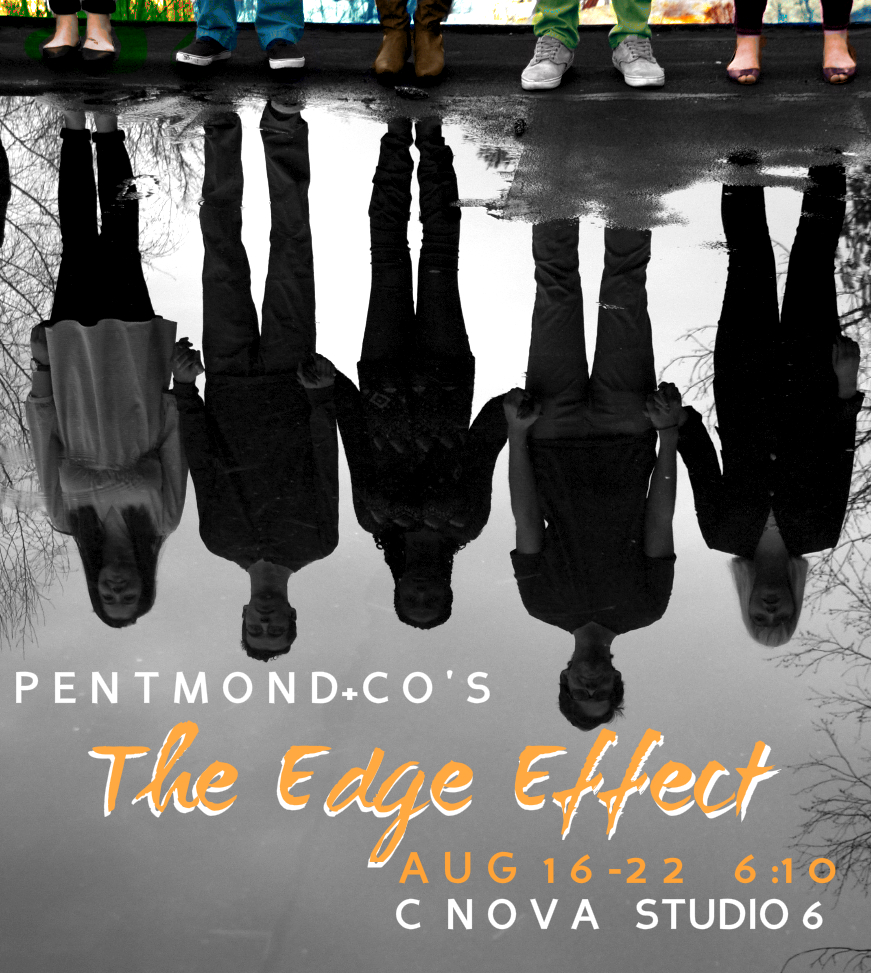 The play is about "in-betweenness." And who better to craft such a piece than college students? We're not the only ones who undergo changes. Many face much moments every day from all walks of life, but there's a unique transformation we see ourselves undergo; we find ourselves amidst strange times and trip on every moment. We call civilization as we see it and move in the direction that's seemingly best after hemming and hawing over the possible outcome, nearly running our minds into the ground figuring out what's "best," what makes our families and friends proud. "This finding of life in the worst places ties back into my faith, showing that the most poignant redemptions often come through struggle," says Jessica.
They feel that "in-betweenness" strikes a universal chord. "That's where the idea of the 'the edge effect' comes in. It comes from compositional ecology where the boundaries of two biomes overlap and create crossover space. It's called an edge effect because there's a humongous growth in biodiversity in that area. So somehow all of this life starts springing up out of nowhere where there are now two sets of ecological influences," says Hannah.
After two years of drafting—and a lot of planning, perseverance and faith from their peers and professors—the script and the group are ready to take Scotland. The group's final step is just getting there. The Edge Effect is funded by generous donors with an appreciation for the arts and global theatre. To support these remarkably talented students in their ambitious venture to Edinburgh you'll find their support page here.
By Jimmy Sicord '16, Communication Arts