'Tis the Season for Gordon Friends and Family
Just 10 years ago, the holiday season at Gordon was ushered in by a humble gathering of 50 carolers around a Christmas tree. Now, Christmas at Gordon draws over 1,000 guests to the College each year with the Lighting Festival on Thursday and Friday, and the Music Department's annual Christmas Gala on Friday and Saturday. The weekend of festivities has become a popular tradition, inviting alumni, local community members, faculty, staff and students together to both celebrate and spark the beginning of season.
"No matter the temperature, it always feels cozy. I like to call it magical and cozy," says Advancement Events Coordinator Heather Varela '08.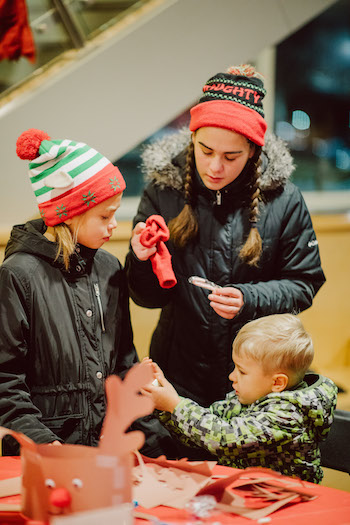 This year's celebration began last Thursday as the 20-foot Christmas tree on the Clarendon Commons illuminated the night, casting twinkling lights across the smiling faces of onlookers.
Maintaining much of last year's charm and fanfare, the Christmas Market was added to the roster of official events and brought Gordon crafters under one roof to share and sell their original wares. Lauren Loisel '21 got her family involved, featuring crafts made by her grandmother, mother and herself. Nancy Anderson '72, director of Human Resources, hosted a booth piled with an assortment knitted winter ware and quilted items. While the market currently allows selling by current students, faculty and staff, Varela says her team hopes to open it up to the whole alumni community next year.
More returning favorites included The Star: Live Nativity Production, produced with The 5th Wall  and set built by Maia Mattson '13 of Mattson Visual Design. At the photo booth, Steven Schultz '17 photographed attendees in front of a festive backdrop made by Katie Figueroa '17. And wreath-making with Meggin Hunt of The Singing Flower in Hamilton, MA, drew in novice wreath artisans.
On both evenings of the Lighting Festival, performances of song and dance were enjoyed in front of the A. J. Gordon Chapel. Ballerinas from the Hamilton Wenham School of Dance performed against the frigid night, and musical acts like Gordon's Gospel Choir filled the air with choruses of joy, bringing cheer to those in earshot. Adorned with larger-than-life colorful Christmas light necklaces that signaled a place to be welcomed and warmed, Student Ambassadors and volunteers served hot chocolate and s'mores.
And the spirit of giving was alive on campus, as the Dance Team held a gift-wrapping fundraiser to secure their bid for the National Cheerleaders Association & National Dance Alliance Collegiate Cheer and Dance Championship.
As Saturday night drew to an end with the final performance of the Christmas Gala, the voices of the Gordon community welcomed the advent of the season as the last notes of "O Come All Ye Faithful" rung.
"Christmas at Gordon holds significance because it represents a coming together of Gordon and the community," Makayela Isbell '20. "It's full of familiar faces and new friends."
By Sarah Welch '19, Communication Arts