What the Wilderness Taught Me
Every summer, the La Vida Center for Outdoor Education and Leadership brings hundreds of brand new Gordon students on 12-day, intensive wilderness expeditions into the Adirondack mountains of New York. With little more than a backpack and an ounce of shaky courage, students venture into what often ends up becoming one of the most enriching experiences of their college years. Dan Simonds '18 (communication arts major from Rhode Island) reflects on his La Vida trip just over a year ago.
The La Vida Center for Outdoor Education and Leadership is known for a multitude of programs, but none more grueling yet rewarding than the Adirondack expeditions. They're part of Gordon's outdoor education requirement for incoming students (who can choose between a La Vida expedition or a Discovery course), and they're really a pinnacle experience of the first year. They are where the community-building, Christian walk-supporting, faith-deepening journeying through one's first year in college commences. Void of technology and being fully present, it is in the Adirondack Mountains of upstate New York that students find out how to experience true growth and empowerment through Jesus Christ.
Be here now. Those three words speak to La Vida's mission that diverges greatly from society's expectation. In our culture there is such a fragmentation of interest that we often lose sight of our true mission as Christians. That's what I've discovered a year out of the La Vida experience. I recall Rich Obenschain, director of outdoor education, describing La Vida as the hallmark of a Gordon experience for some. I've found his words to be true. Even with all that Gordon has to offer, I would say the most life-changing course is taught in those rugged, green New York mountains.
By completing the ropes course, for example, I overcame an incredible sense of fear, only to be empowered by an overwhelming sense of accomplishment. What seemed insurmountable—crossing an Indiana Jones type of bridge, dangling 40 feet above the ground—became a reality with the help of my supportive patrol. The positive encouragement of my patrol continued to power me through this time while I was struggling to climb up the side of a cliff. There were moments when it felt like I could not will myself any further up the jagged wall. But with the helpful aid of my belayer I was able to conquer the wall and experience the beauty that was to be seen atop the mountain.
One takeaway from that challenging experience on the cliff was that we hit periods in the semester (on campus, in our classes) where we don't feel like we have the energy to push any harder. But with support and trust in God's hand, the rock-climbing experience gave me a tangible example of the power of holding fast and forging on.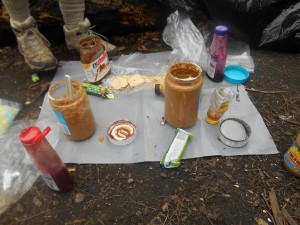 When it came time to pack up all of our individual and patrol belongings (a measly few apples, pepperoni, GORP, peanut butter, crackers and a carrot) our resilience really came to the test. Over the next five days my patrol journeyed through Racquette Lake and Saranac Lake via canoe; I was paired with a different rowing partner each day. We enjoyed the gorgeous views of God's creation and we endured relentless mosquito attacks. Each day culminated in a life story or two, which further stripped away any ambiguity and welcomed intimacy in our patrol. We were no longer friendly strangers, but brothers and sisters.