Alum Learns to Forgive God in New Book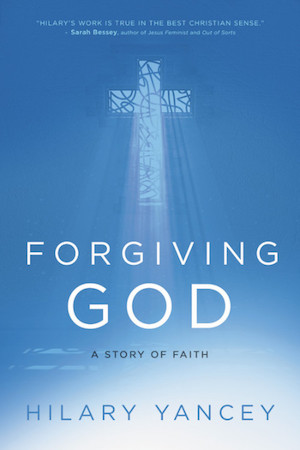 At their 20-week ultrasound, Hilary (Sherratt) Yancey's son was diagnosed with craniofacial microsomia. The set of conditions, related to the development of the face and skull, meant Jackson would be born missing his right eye and right external ear. He also had a cleft lip and palate and abnormalities of the right jaw.
"In a season where I was not sure what to say to God, or how to even begin that conversation, I wrote," Yancey '12 says. With many thoughts to process, the new mother turned her family's profound experience—Jack's diagnosis, birth, surgery and their six-week stay in the neonatal intensive care unit (NICU)—into a book, Forgiving God: A Story of Faith, released April 3.
"The book is, in lots of ways, a reflection of the patchwork that makes up the life of my mind," Yancey says, "reflections on motherhood, philosophy, the nature of disabilities and how these are woven together into a life lived before God."
Yancey references a line from the musical Hamilton (which, she says they listened to often during their NICU stay): "I wrote my way out." But for her, writing was the opposite. "Writing this book was my way in: into the experience in a deeper way, into the new relationship with God I was forging and discovering," she says. "I wrote the book primarily because writing is where I meet my experiences, where I confront and (ultimately, I hope) befriend them."
Sharing such an intensely personal story was not always simple, though. Yancey describes storytelling as looking through a window: "You see so much and so little at the same time, and the edges of the window are sometimes hard to discern. So one challenge was knowing what experiences to include, where the edges of the window were."
Now two-and-a-half, Jack is a "remarkably stable kid" and his tracheostomy tube (the small tube in his neck to ensure he breathes safely) is less overwhelming for the family. Emotionally and spiritually, Yancey says, the family began to better understand how to move through life together joyfully. "I think joy is much more than an emotion," she says. "I think it's more like a place you inhabit, somewhere you are invited into—and Jack was my invitation."
With a renewed perspective, Yancey says she found it difficult at times while writing to capture some of her raw, honest feelings from earlier stages. "I wanted to capture some of the emotions I felt in pregnancy before I had seen Jack flourish and thrive," she says, "but it can be a challenge to recapture those emotions when your daily life is filled with a very different spirit."
The ability to appropriately express her experience, though, has been rewarding, especially when she hears from readers who can relate to her story. "It's wonderful to connect with people who have wrestled with and confronted God in their own lives, and to hear their stories about where that confrontation has led them, how they see God differently, where they still grapple," she says.
But Yancey acknowledges that publishing a book does not mean she is finished grappling with the struggles in her life; she is still in the process of spiritual transformation. And though she graduated from Gordon several years ago—she's now earning a Ph.D. in philosophy at Baylor University—Yancey credits Elaine Phillips and Sharon Ketcham (both biblical studies and Christian ministries) as influencers who taught her new ways to see Jesus. "Influence is a bit like water," she says. "It flows in and around experiences."
"I really love that the book introduces people—especially those who knew me before, or have met us after the events in the story take place—to this transformative experience," Yancey says. "I like to think for those folks it's like meeting me again, but in the midst of me becoming the person I am now."
Forgiving God: A Story of Faith is available for purchase on Amazon and at Barnes and Noble.