You Are Here: Poland Missions Trip 2015
Ashley Miller '18 is a double major in art and English language and literature from Rowley, MA. This summer, Ashley was part of the Gordon missions team to Poland. She brings their story to The Bell.
This past July, a group of eight Gordon students and I traveled to Poland for three weeks to volunteer as English camp leaders for young Poles ranging from 12 to 17 years old. The central goal of the trip focused on growing the faith of the Polish campers, as many of them did not come from families rooted in faith and religion.
For the first week in Poland, we stayed in Poznan during our orientation with an organization called Josiah Venture, where we connected with fellow mission groups and three missionary interns (two girls from Alabama and an intern from Texas) who would be joining us at English camp the following week.
At the end of orientation we traveled to Wroclaw, where we met up with the Polish camp leaders to finalize the camp schedule. We then took a 10-hour bus ride with the campers, which was a great time to meet them, get to know them and try to create a comfortable atmosphere for them to open up to us in the week to come.
Each day of the week would start off with team meetings, where we discussed our progress as leaders and shared stories of kids who had been experiencing personal change. After our team meetings, we would have our morning program connected to the week's theme: "You Are Here." We interacted with the kids through music videos, leader talks—and most importantly, the camp dance! We learned it during orientation and were teaching it to the kids throughout the week.
After the morning program, we headed off to our classes: volleyball and English. Seven members of our combined missions team taught our three English classes: beginner, medium and advanced levels. The English classes consisted of teaching conversational English, playing games, and finding ways to share the gospel and demonstrate what a faithful relationship with Christ looks like. The rest of the kids who didn't sign up for English class signed up for volleyball, which was taught by the rest of the team.
Our afternoon games varied each day, from dodge ball to capture the flag. During our evening program, one of our leaders shared with the kids about parts of Paul's journey with Christ from the Bible. A Gordon student or Polish leader would then share their testimony, continuing the story of Paul and connecting it to a daily question that related to our camp's theme.
Our day didn't stop there! After the evening program we would have a scheduled fun event for the kids—such as a Marvels Avengers dress-up party, English Camp's Got Talent, and a coffee house. About halfway through the week we paused classes and took the kids on an educational field trip via boat ride straight from camp.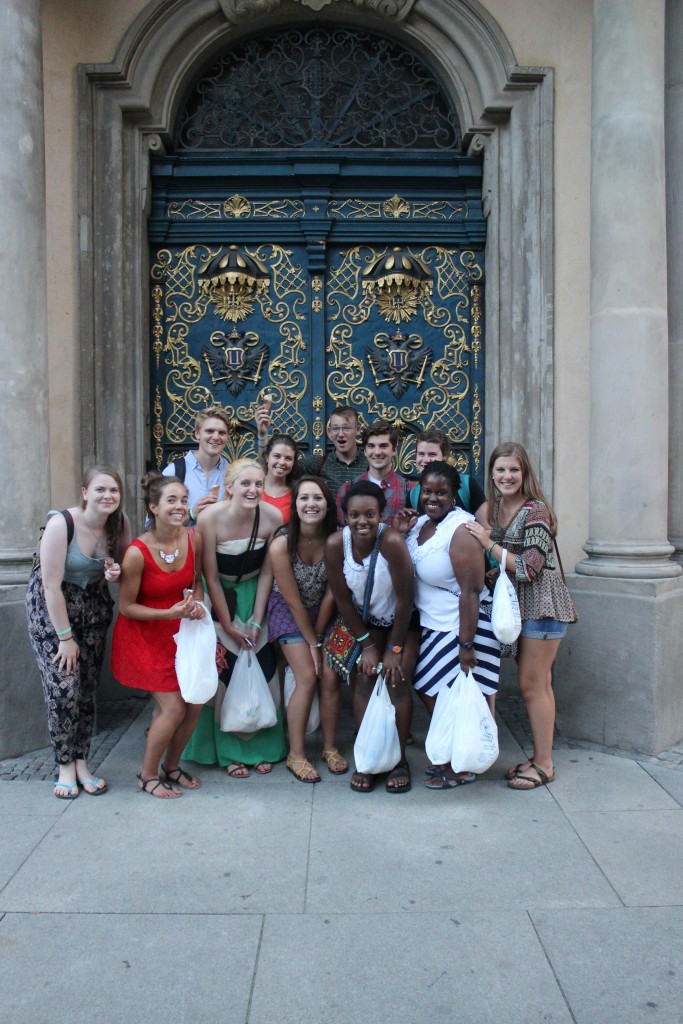 After we left the camp, we spent a day touring Wroclaw, traveled back to Poznan for a day of debriefing, and then continued on to our second mission. We had to part from our Alabama girls and Texan intern as we traveled to Terespol, where we hosted another day camp for younger children ages 5 to 10. We stayed at a local church and were able to be more flexible with our schedule, which included singing, skits, games, and arts and crafts.
The kids will always be a part of me and stay in my heart, whether or not I am able to return to Poland in the future. At first, it was hard for me to open up about my faith with the kids and be vulnerable, but as the week went on, I truly shared a special bond with many of the kids there, and I learned a lot about the Polish culture. I think the hardest part of the trip was trying to grasp the feeling of what it would be like to live without knowing God. I think many Christians, myself included, take for granted what it's like to always know someone is by our side, helping us get through difficult times in our lives. We forget what it's like not to know God's presence.
Going to Poland changed me. It taught how to be a better follower of Christ, and how to experience God's presence in other ways of worship other than ones I was used to. It was a life-changing experience I'll never forget.