10 Activities for Your Summer Vacation on the North Shore
Tucked away in a lush haven of quintessential New England, Gordon is well situated to offer easy access to both expansive beaches and rich historical sites. Why not make your next college visit a family vacation, and explore the North Shore's maritime roots and musical theater offerings? You don't need to travel farther than 20 miles to explore any one of these fascinating and fun destinations.
1. Custom House Maritime Museum (19.7 miles)
Dive into the rich maritime history of Merrimack at the Custom House. Built in 1835 by Robert Mills, architect of the Washington Monument, the 19th-century building originally oversaw the management of overseas trade and tax of imported goods. Over the years it has taken on other roles, such as hosting a manufacturer of the heels of women's shoes and a storage facility for submarine parts. Now, run by the Newburyport Maritime Society, it acts as an education center and museum.
2. Singing Beach (5.3 miles)
Many stunning beaches adorn the North Shore, but Singing Beach is a Gordon favorite. Named for its sand that produces a soft, high-pitched sound when the wind blows or it is walked on, this ocean spot is a great place to lay back and relax after that college tour or a long travel day. The beach also has a canteen/snack stand where you can buy a quick treat before heading out to the water (and the fan-favorite Captain Dusty's ice cream shop is just down the hill).
3. Hammond Castle (9.3 miles)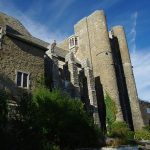 A piece of old England in New England, the Hammond Castle will transport you back into the Medieval era with its classic European architecture and extensive collection of Roman to Renaissance artifacts. Built by inventor John Hays Hammond Jr. in the 1920s, the castle also houses engineering innovations such as a steam pipe system in the courtyard to provide the proper humidity and temperature levels for growing tropical plants. If you decide to visit, be sure not to miss the gigantic pipe organ that was built over a period of 10 years by a selection of world-famous organ builders.
4. House of the Seven Gables (7.9 miles)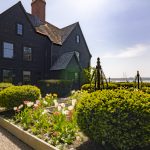 Visit the famed setting of Nathaniel Hawthorne's classic tale,The House of Seven Gables, and learn about the 17th-century seaside mansion originally built for Captain John Turner I. While you're at it, you can explore the city of Salem, which has its own extensive heritage as the location of the witch trials, the birthplace of the National Guard, and the residence of some of America's first millionaires.
5. 7 Seas Whale Watch (10.8 miles)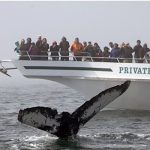 Venture out onto the sea and see if you can spot our large aquatic neighbors. 7 Seas Whale Watch is a family business and has been rated the No. 1 tour in Gloucester by Trip Advisor last year. Partnering with Ocean Alliance the tour endeavors to support and educate visitors on the marine environment. Perhaps it'll be your first foray into a marine biology major (but don't worry, we have our own boat for that).
6. The Paper House (16.6 miles)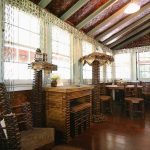 In 1922, a man decided to build a house out of newspaper—and it's still standing. Within the paper walls in Rockport, MA, you will find furniture made out of the same material, even a piano. Only $2 admission for adults and $1 admission for children, this is a perfect stop if you're looking for a brief but fascinating activity. While you're in Rockport, take some time to explore its quaint and artsy downtown, particularly Bear Skin Neck.
7. Peabody-Essex Museum (7.8 miles)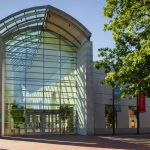 Home to one of the foremost collections of Asian art in the United States, this museum is a perfect stop for art-lovers. Originally founded in 1799 by the East India Marine Society, the structure of the building was expanded upon in 2003 with an imaginative glass atrium addition by world-renowned architect Moshe Safdie. With its rich history and future-focused outlook, this gallery is a great place to spend an afternoon.
8. Wenham Tea House (4.2 miles)
Take a break and sip some caffeine at this delightful dining spot that boasts to be America's oldest operating Tea House. The quaint establishment has been supporting the community of Wenham since its very early years, so it's a perfect place to go for some original New England ambiance (not to mention a delicious selection of breakfast, brunch and lunch options).
9. Long Hill (2.4 miles)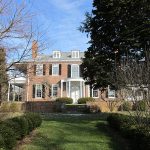 Tucked away among the deep green forests of Massachusetts you can find a cool respite from the hot summer sun at Long Hill. Take a meandering stroll along the mile-long trail through the vibrant gardens surrounding a federal style mansion. Or, take a guided tour to learn about the botanical features of the estate.
10. North Shore Music Theater (4.8 miles)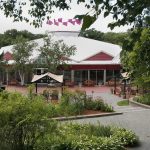 For some evening entertainment, stop by this classic establishment that will be running shows throughout the summer. Putting on musical numbers since 1955, the theater has garnered national and regional acclaim and has received numerous awards, in addition to being the original company to produce the Tony award winning musical Memphis.
Photo courtesy of North Shore Music Theater
Feeling adventurous? There are dozens of other excellent vacation spots within a few hours of Gordon. Check out the Berkshire Mountains of MA, White Mountains of NY and the coast of Maine for other getaway ideas. But before you unroll your beach towel on Singing Beach or embark on a Whale watching expedition, come visit us on Grapevine Rd. If you stop by on a Summer Friday, you can get a North Shore Passbook with coupons and tips for some of the stops listed above. We cannot wait to welcome you to the North Shore and share our neighborhood with you.
By Veronica Andreades '20, English language and literature