Gordon Alumna Gives to The Giver
From a small town called Surrey, London, to an international relations program at Lafayette College, Venetia Breene '14 (second from the left) struggled to find the right path towards her vocation. But after transferring to Gordon and diving deep into the communication arts major, Breene has found herself at Walden Media, working in the marketing department for the new film, The Giver.
Venetia always knew that she wanted to work in a setting that involved meeting new people and in which she would focus on the relational side of her job. "I also always had a creative flair that was waiting to break out," she said, "but I always just assumed that my creativity had to be suppressed in my career path, and things like photography would just be a hobby."
Early in her college career, Venetia discovered "cause-related marketing," a system that pairs for-profit businesses with non-profit organizations with the hope of generating a wide network of supporters for outreach efforts. Within this field, she saw herself using her love for images to get people to stop and think about how they can change the world. Thinking long-term, Venetia says, "I'd like to be the creative director of a non-profit campaign, like (RED) or MADD, or something along those lines."
As her time at Gordon came to a close, Venetia began to look toward finding a job. In the summer of 2013 she had interned with Arnold Worldwide, assisting in its advertising department. This gave her the concrete direction she needed. "I was finally able to attach abstract learning to practical skills and prove to someone that I was willing to put in the long hours to learn and grow," she said. "I had already decided to go into cause-related advertising and Arnold gave me some structure to organize my abstract thoughts."
As graduation approached, Venetia found a job opportunity during Gordon's annual Celebration of Faithful Leadership dinner. She attended the dinner as one of the College's student ambassadors. Her father sits on the Board of Trustees, so during the pre-dinner meeting her family introduced Venetia to Micheal Flaherty, founder of Walden Media. Founded in 2001, Walden is known for bringing Christian themes and educational content into Hollywood films, producing movies such as The Chronicles of Narnia and Waiting for Superman. By the end of their conversation, Flaherty had offered Venetia a job for the summer.
So for the past several months she has done marketing for The Giver, which entered theaters on August 15 and features Meryl Streep and Jeff Bridges. The movie follows Jonas, a boy living in a seemingly perfect world who learns a deep secret hidden in his community's past. Venetia has monitored social media for the film, organized private screenings and focus groups to test the movie, and worked to get the word out to anyone who could spread positive buzz about the film (such as newspaper columnists, radio hosts and media personalities). While balancing all those tasks, Venetia must also manage Flaherty's schedule and supervise Walden's interns.
Being in charge of marketing right out of college might seem impossible, but Venetia found herself pulling resources from her past experiences. Principles from her marketing class helped in ensuring screenings were attracting Walden's target audience. The information she learned in Media Criticism helped as she looked through different movie cuts or adjusted the scripts. But even with her solid educational foundation, Venetia's first job out of college is taking her skills to the next level.
As the movie unfolds, Venetia future lies in limbo. Already she has received a job offer for the fall at Arnold Worldwide in its New York offices, and the possibility that she might continue her work with Walden still lays open. With this important decision awaiting Venetia she is able to stay calm, knowing the connections she has made at Walden will be very helpful for her in the future. "For now," Venetia says, "you could say I'm living life on the edge."
---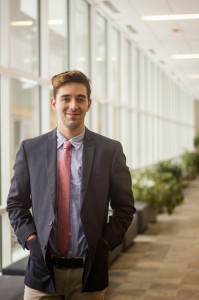 Jesse Steele '15 is a communication arts major focusing on journalism with a minor in kinesiology. He plans to attend grad school for public health to work in Central America, growing mangos and fighting disease. He's right off the plane from a summer in Rwanda where he interned with the International Justice Mission.