Abbi Biggar '15: Education as a Mission Field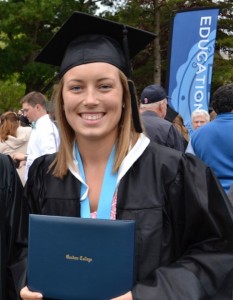 Ever since Abbi Biggar '15 transferred to Gordon amid her freshman year for a better fit and a strong Education Department, she knew she was destined to find her career path in a school on the North Shore. She enrolled as an early childhood education major upon arriving at Gordon, and later declared a second major in linguistics with a concentration in English as a second language (ESL).
During her high school years Abbi thought about teaching abroad someday in missionary schools, but after going through "Intro to Education," she soon realized how much of a need there is right here in the Greater Boston area. Leading up to graduation she hoped to teach first grade in a local urban community, which is where she felt she could most effectively integrate young immigrants into the English-speaking American school system. "I feel as though I can say that any school setting I am placed in is my mission field," Abbi says.
During her senior year Abbi did her student teaching in a first grade classroom at West Parish Elementary in Gloucester, MA. "It was definitely not the place I had expected myself to be in, but it was everything I needed it to be," says Abbi. West Parish Elementary, among the best schools in Gloucester, excels in building strong reading levels among its young students. After she finished her Early Childhood Practicum, it was evident to Abbi that the kids at West Parish are a special group. "Each and every student had an impact on me as a person and a teacher," she says.
And things just kept getting better. In the wake of her practicum, Abbi was asked to apply and interview at West Parish Elementary, and is now thrilled to be accepting a teaching position in what she has learned is an amazing community. She will be taking the place of her supervising practitioner, Mary Ann Goodhue, after she retires at the end of this year.
Although Gloucester isn't exactly an urban environment, Abbi is excited to use her ESL training with the occasional student who has a native language other than English but is not enrolled in the ESL program in Gloucester. "Many of the different teaching strategies used for ESL can be transferred to a general education classroom, such as using visuals with labels, and different reading strategies," she says.
The school's principal, Gordon alumna Telena Imel '98, has helped Abbi throughout her journey and suggested to her that she apply for the position. "I was going into the whole application and interview process with the perspective of the opportunity being a great learning experience, but it was an added bonus to be offered the position," says Abbi. Principal Imel says she is "very excited to have Abbi come on board in the fall."
The West Parish Elementary School building will be under construction in 2015–16 in order to house its growing number of students, modernize facilities, and install new state-of-the-art technology. The first through fourth grade classes are finding a temporary home at St. Ann School until the new building's expected completion date of September 2016.
As Abbi becomes a member of the West Parish faculty, other Gordon education majors will be find themselves completing practicums, teaching, and finding a home at West Parish Elementary. Gordon's Education Department has a 100 percent job placement record following graduation.
By Jimmy Sicord '16, Communication Arts