Females in Coaching: Falzarano's Game Plan for a Pro Sports Future
When the 49ers and the Chiefs go head-to-head on Sunday, the Super Bowl will see its first female coach. Among the millions of viewers watching this milestone will be Brooke Falzarano '20, who, one day, aspires to join her ranks in professional sports.
For now, you can find Falzarano courtside with Gordon Men's Basketball, where she's the undergraduate coaching assistant. Sometimes that means running their social media; other times, it's traveling to observe a recruit. No matter the task and no matter the sport, Falzarano treats the moment as an opportunity to prepare for a future in coaching. And her many pages packed with notes on everything from recruit analysis ("What would I like to see in my future players?") and personal formation ("Relationship is the routine") to practical tips ("No yawns.") are the evidence.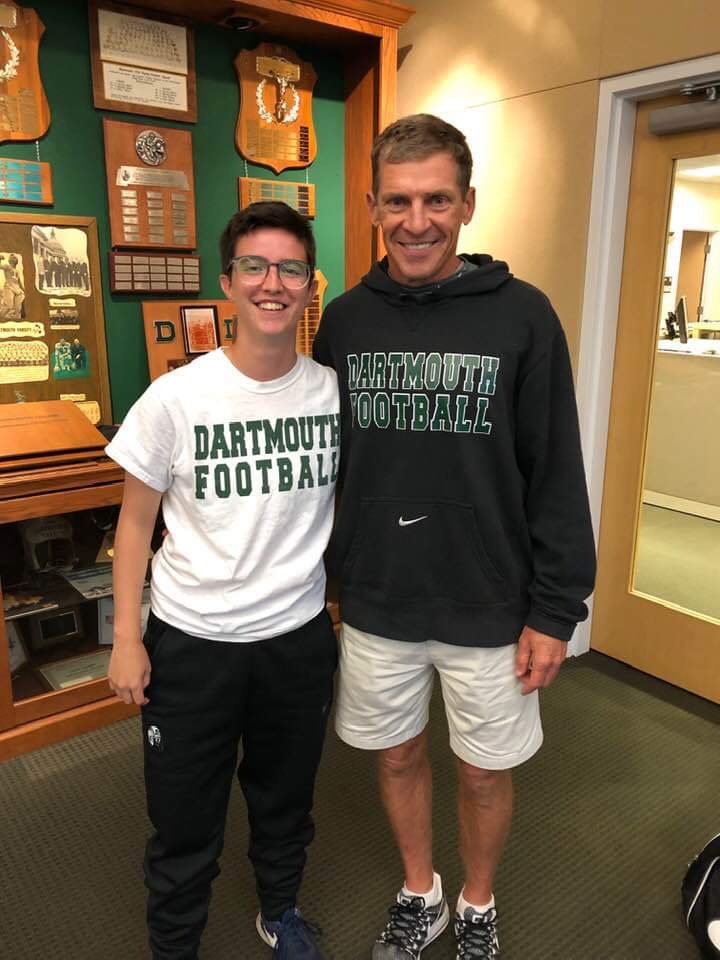 In addition to working alongside Gordon Men's Basketball head coach and former NBA player Tod Murphy, Falzarano has scored other opportunities to work with mentors who are shaping her coaching game. During winter break she shadowed with Dartmouth College Women's Basketball Head Coach Belle Koclanes; last summer she shadowed Dartmouth Football Recruiting Coordinator Callie Brownson, the first female NCAA Division I football coach, and Robert L. Blackman Head Football Coach Buddy Teevens—who, Falzarano says, is just a text message away.
Commuting from the North Shore of Boston to Hanover, NH, on weekends for work with Teevens, one of Falzarano's greatest takeaways came from the coach's willingness to be innovative, whether by inviting a woman to coach or using a robotic dummy to tackle. "Coach Teevens didn't know if the new stuff would work," says Falzarano, "but he was willing to fail, and that's one of the biggest things to learn as a coach."
Another meaningful lesson was Teevens' attention to forming well-rounded individuals. "It's bigger than football to the coaches," Falzarano says. "They want to win, yes, but they also want to mature young men. In the meetings, Coach Teevens will ask players to stand up and work on how to speak professionally. He tells players to say hello to the janitors, the cafeteria workers and to everyone. Players have to sit in front of the classroom."
Shadowing the star-studded list of coaches in her two favorite sports, basketball and football, has exposed Falzarano to an invaluable assortment of perspectives. "Consistent communication = constant accountability," she wrote in her notes on the first day with Dartmouth Women's Basketball. "Simple things take effort, energy and FOCUS." With the football team, her notes internalized the program's five hallmarks: Buy-in, consistency, relationships, positivity and confidence.
Before setting out to earn a championship trophy as an NBA coach—her dream job—Falzarano looks toward graduate school, and also hopes to join Brownson as one of the female coaches who make up only 10 percent of NCAA Division I athletics.
"When you're a female in an industry and business like football, you don't know what people will think of you," she says. "The most helpful thing has been realizing that these coaches are there to help me and love me, and that's not something I was expecting going into it."
Ellian Chalfant '22, communication arts and Spanish, contributed to this article