Bursting with color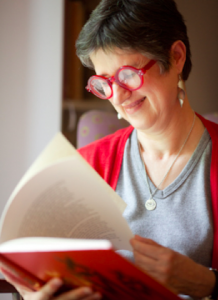 Walking down the halls of the Barrington Center for the Arts, it's not long before the creative atmosphere offers an environment to pause—at the inspiration, beauty and color. But as this year's winter-break winds down and students return to their work, a familiar element will feel amiss in their halls—color. Sure, artwork and hues will be displayed on the walls and the soft glow of sunlight will warm The Gallery, but probably the most familiar element of color Barrington provides will feel awry. After 15-years on the faculty, Associate Professor Tanja Butler—famous for those bright red-rimmed glasses, vibrant scarves and infectious laugh—is returning to her full-time career in the art studio.
Butler began her artistic career at a young age and honed her skills at the University of Albany, where she studied studio art and art history as an undergraduate and then earned a master's degree in painting. She served as a curator, printmaker and painter prior to joining the Gordon IN Orvieto faculty in 1999.
"Although I never planned to take a teaching position, when Bruce Herman invited me to teach in the newly formed Orvieto program, I found it an offer difficult to refuse," she says. After a successful semester in Orvieto, Italy, Butler joined the faculty at Gordon's campus in Wenham, where she began to share her visual meditations on the interplay between Scripture and self-expression with students and the surrounding community.
Butler's tenure at Gordon is marked with service. Most recognizable by the experiences she created for students to work as artists with nonprofits, schools and social service agencies. Butler regards these opportunities as personal achievements and recalls a student collaboration with the Community Minority Cultural Center [Lynn, MA] as one of her favorite class projects.
She also worked alongside Gordon's Chapel Office to fold more visual art elements into campus worship. In fact, much of Butler's artwork has been used in worship settings at large. One colleague notes, "Her work is colorful, exuberant and quietly powerful. Her paintings also show a beautiful sense of humor amidst the pathos of life. She creates a communion with Christ and care for her sisters and brothers in the faith."
Professionally, Butler's proudest artistic accomplishment was best served through the justice system. Not in a classroom, gallery or the church, but the unlikely setting of a courtroom. In 2003 she was asked to produce medical illustrations for a Congressional hearing to visually depict the partial-birth abortion procedure. Her illustrations were used as evidence in the Congressional hearings that led to a federal ban of this late-term abortion technique.
Colleagues and students praise Butler for her sensitivity and wisdom. When former provost Mark Sargent presented her with the 2008 Junior Distinguished Faculty Award, he noted Butler's "gracious presence, her integrity, her ability to raise and respond to the difficult questions without self-importance."
"It's hard for me to picture the Art Department, or even Gordon, without Tanja Butler," says Katie Nellis '13, who majored in art. Butler mentored Nellis through her admissions experience, as a student, in her art, and academics serving a Nellis' senior thesis coach. "Tanja's friendship is one of the most consistent, sincere, surprising and galvanizing from my time at Gordon," said Nellis. "She combines reverence and humor, tenderness and grit, discipline and delightful generosity."
While many on campus will miss her colorful inspiration, it's safe to say Butler's paintbrush won't be put away just yet. Butler's immediate plans include a collection about the lives of various heroes in the faith. Wherever the series lands—gallery, museum, or a private collection—we know it'll be bursting with color.
By Rachel Kauffman '15, Communication Arts
Honor a Faculty Mentor: Alumni have the opportunity to honor current and former faculty members for the contributions they have made in their lives and careers. Submit your favorite memories, words of wisdom and counsel you received, or messages of appreciation for faculty who made a difference in your life.