Collaborative Design with Prosthetics Engineer Dr. Meagan Vaughan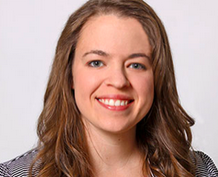 For some, a seminar titled "Collaborative Design" might conjure images of artists alongside non-artists, backlit by bold colors or textile patterns, collaborating by the glow of a 27 inch iMac. But that visual representation of collaborative design would be a mere scratch on the surface when you revision the picture with a few more details. Now picture artists collaborating with non-artists who study human movement and its relationship to physical activity, health and disease—on the topic of biomechanical prostheses.
This week Gordon's Department of Kinesiology will host guest speaker Meagan Vaughan for a guest lecture on collaborative design. "Dr. Vaughan's work in prosthetic design is truly multidisciplinary in nature," said Jessica Ventura, assistant professor of kinesiology. "Not only does her research cross the boundaries of academics and professional practice, but it also pulls from a variety of fields that are strengths here at Gordon College." Members of the Gordon community, health professionals or medical students around Boston, or those with interest in medical missions, social work, disabilities studies, engineering design, and materials research will find the seminar offers insights into a myriad of professions. "Dr. Vaughan's visit to campus has the potential to bring people from diverse fields of study together in Gordon's new Biomechanics Laboratory, " said Venture, organizer of the event. "Similar to Dr. Vaughn's multifaceted relevance, the setting for her seminar [in Kinesiology's new state of the art Biomechanics Laboratory] serves as a visual reminder of the multidisciplinary opportunities science labs have for student research.
Dr. Vaughan's research focuses on biomechanics and the design of a low-cost, volume adjustable prosthetic socket. She is fulltime faculty member and researcher at The University of Texas at El Paso, and is building a new program—the Engineering Education and Leadership Department—to help students bridge the gap between traditional engineering education and professional work in industry. She is also the Argosy Fellow and a visiting scholar at Franklin W. Olin College of Engineering, where she teaches User Oriented Collaborative Design. Dr. Vaughan's research interests span the areas of engineering education, biomechanics, and product design methodology. Her lecture is open to the public and will take place this Friday at 11:25 a.m. in the Ken Olsen Science Center.
The seminar Collaborative Design is open to the public and will take place Friday , March 27, at 11:25 a.m. in the Ken Olsen Science Center. For information, or to request an interview with Dr. Vaughan or Dr. Ventura, contact the Office of College Communications at Gordon College at 978.867.4235 or email [email protected] Post-seminar tours of the Gordon College Biomechanics Laboratory are available by advance request by contacting Cyndi McMahon in the Office of College Communications at [email protected]