Our Life and Light: An Easter Reflection
"James 1:17: 'Every good and perfect gift is from above, coming down from the Father of the heavenly lights, who does not change like shifting shadows.' How often we lean on shifting forms. On rotational trends caused by humans perceptions and futile projections. To remain in darkness. To defy the kingdom given to us by the Father. The golden sun. It follows us. It is ever present. The perfect form from which wholeness and healing are its countenance. Take golden fire to the curtains that conceal the brilliance of the Father through the Son. Make haste to climb the chapel walls and reveal all that has already been given. And if I wait in darkness, may I perish. And if I cease to pray, may my mouth be shut. And if I cease to mourn, may I be cast out only to be found in the arms of Christ, who is our life, our light and remains to be unchanged. Perfect."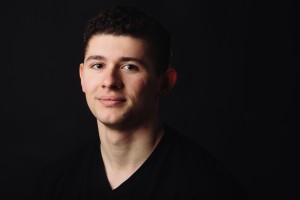 In the Christian tradition, Holy Week is a time of sober reflection on the sacrifice of Christ at the cross, and celebration of new life through his resurrection.
David Popa '15 began reflecting on Easter the same way he begins most things in his life—with spray paint and a giant blank canvas.
An art major from Brooklyn, New York, David has spent the last four years bringing fine art to a unique venue: the street. He and two Gordon friends have teamed up to form Bumbing Happens, a street artist crew on a mission to inject beauty and the gospel into the world of graffiti. Their work on free walls (legal graffiti sites) has brought them from Beverly to Boston to Finland. This summer, they'll spray fine art in Sri Lanka as part of a reconciliation project.
David's Easter piece, "Perfect Gift," was inspired during DEEP FAITH week, when he was struck by the light piercing through a crack in the Chapel window curtains. It was, he says, the perfect representation of Christ's shedding light into darkness, of the believer being engulfed by his saving love. The curtain imagery, he says, also harkens back to the moment of Jesus' death, when the temple curtain was torn in two and the earth shook. The boldfaced paragraph above is David's written statement about "Perfect Gift."
This Easter, we remember and celebrate Christ, our life and light.
Image: David Popa, Perfect Gift, oil and spray paint on canvas.