David Popa '14: When Fine Art Meets Street Art
By Thais (Ziegenhals) Miller '14
When interviewing someone for a piece, I usually like to have a small set of questions prepared for them, in the hopes that those will begin to direct the conversation, which then ideally flows into something I can make into a story. In the case of David Popa '14, the moment we greet one another on Skype, a story begins to overflow from him so quickly I barely have time to collect the different pieces I need to put it all together. And why shouldn't it? It's not often you speak with someone who moved his life from Brooklyn to Finland, chasing a girl and his artistic ambitions.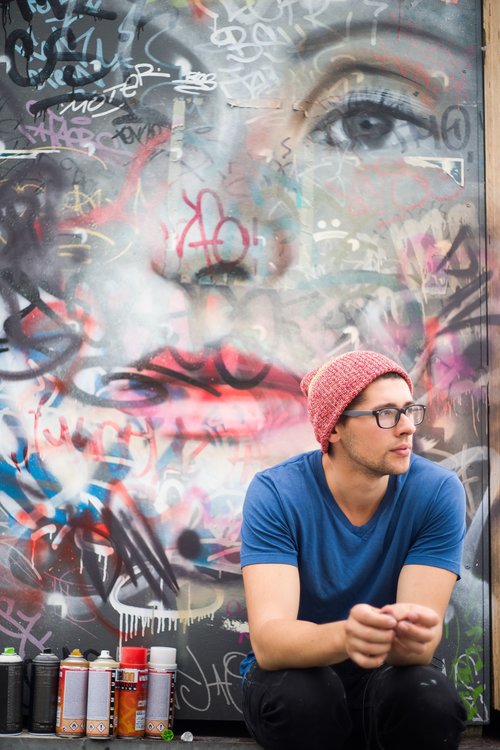 After graduating from Gordon's art program in 2014, David relocated to Finland to study painting at Aalto University, one of the country's top institutions. Popa had already made his mark in Finland, having spent a summer working construction and spray-painting murals on free [graffiti] walls. But as a full-time student this time around, he started to feel the weight of college loans and the price tag of living abroad. To make ends meet, he says, "I needed a miracle."
What followed was exactly that. David had been diligently doing pop-up shows in various cafés all over Helsinki, and it was at one particular show that a friend of his then-fiancé's came in with her wealthy mother. The show was wrapping up after a slow evening, but this particular woman was so taken with David's work that she ordered a portrait of each of her three daughters on the spot. "The size and quality she wanted put me in an incredible place."
This woman referred another client to him a few days later, and one thing led to another. "All of the sudden, all of these people wanted paintings out of nowhere! I also started getting invited to different street art festivals, some of which paid really well. All of the sudden I'm a professional artist."
The learning curve that followed the initial rush, he says, was actually figuring out how to be a professional. He's been leaning as he goes, remembering the example of his art professors at Gordon who not only teach art, but produce their own work. Professor Bruce Herman, for one, has exhibited his work at premier institutions around the world. Examples like this, and the one set by David's father, a professional artist and one of New York City's first graffiti artists, helped David continue to develop the skills and determination needed to succeed in what can be an unpredictable industry. "There's no reason why things wouldn't move forward if the quality of the work is there," he says with confidence.
Since David rarely says no to a commission, he has enough to keep him busy indefinitely. Still, though, he strives for something beyond the type of success he has already achieved. "What I'm doing is more of a side route. My goal is not to show at top galleries; I want to integrate art and experience." His next step? Figuring out a way to do murals on mountains.
While most of his art major classmates studied abroad at Gordon IN Orvieto, David instead chose the W.I.L.D. semester, an immersive wilderness experience. Backpacking out west allowed him to reckon with the juxtaposition of his passions, and pursue a way to combine street art and the natural world. He wants to bring art to new environments, sparked by what he learned in the context of nature in its most raw form. "I'm interested in creating a whole other genre of art," he tells me, his tone thick with both exhaustion and confident excitement at the idea. "Stay tuned for what I'm going to try to do."
Thais (Ziegenhals) Miller '14 is a senior admissions officer at Gordon College. As a Gordon student she studied graphic design and English.