Drawn Back to the Land of the Bible: 20 and Counting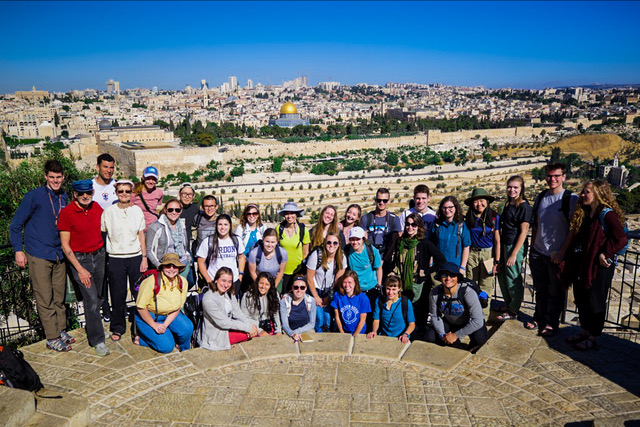 "My hope for the students' participation is that their lives will be transformed in the decades to come as they learn to read Scripture through the added lens of geography," says Dr. Elaine Phillips of the Israel Seminar, in which Gordon students join others at Jerusalem University College (JUC) for three weeks of intensive historical geography field study.
"We walk a lot; our 21st-century feet are connecting with the land that has shaped God's people for millennia," Dr. Phillips says.
The course draws from a more extensive semester-long curriculum initially developed at the American Institute of Holy Land Studies (now JUC), which was founded in 1957. Here, students explore firsthand newly uncovered archaeological finds, deepen their understanding of Scripture by experiencing its geography, and reflect on the profound spiritual lessons embedded in the text and the land.
Ellie Wiener '20, a biblical studies major and a participant on this summer's trip, says swimming in the Sea of Galilee and seeing "the vast barrenness of the wilderness" were tangible reminders of "the incomprehensible reality that the Lord God Almighty concerns himself with a people and a land and entrenches himself in history and culture."
Dr. Phillips herself experienced that wonder during a transformative three years of studying at JUC as graduate student in 1976, shortly after the Six-Day War. The Institute is five minutes from the Old City of Jerusalem and its 500-year-old walls; it's "a unique location to experience rich and ever-changing cultural encounters" in a city where over 130 languages are spoken.
During the first week, students experience Jerusalem's multilayered history and cultural diversity, including an introduction to the four quarters of the city, a 3,000-year flashback to Old Testament Jerusalem, and a look at its New Testament archaeology. During the second week, students venture outside the city for field studies in the south (Negev) and the shoreline of the Dead Sea, focusing on Masada to understand Herod the Great's influence, En Gedi to appreciate the psalms that highlight water and rocks, and Qumran.
Finally, they journey north to Shiloh, Shechem, Samaria, Caesarea and much of Galilee, with a day "focusing on Jesus' ministry around the Sea of Galilee, reflecting on and listening again to the true Light who brings healing, challenges faith and calls us to be His followers," says Dr. Phillips.
Every location is a reminder of the danger present there 2,000 years ago: "Herod the Great, the Romans, Caesarea—they all represented that frightening, potentially oppressive context into which the Light of the World came," says Dr. Phillips.
The clash of old and new is ever-present, she says. Deeply intertwined with the cultural layers is a constantly modulating political scene, between peace agreements with Egypt and Jordan, war at the northern border with Lebanon, ongoing issues in the area of Gaza and two intifadas.
"Every year I've taken students, there's been a certain amount of anxiety back home over security in Israel," Dr. Phillips says. In light of that, JUC monitors the situation on the ground and sensibly avoids any potential problem areas. "We have characteristically had, in God's goodness and His wonderful protection and care, a profound sense of security wherever we are," she says. "It's never been a situation about which I have ever been anxious."
For participants, Israel has been a favorable and beautiful setting for learning. "Studying in Israel energized my continued academic exploration of God's Word," Ellie says, "gave me a new geography lens through which to read Scripture, and enriched my devotional reflection."
By Morgan Clayton '19, history