FOND Bone Broth: A Modern Family Business
Alysa (Obert) Seeland '11 and Anna Obert '16 are proving that family businesses are not something of the past. Their new company, FOND Bone Broth, has found success in a hungry market, and was recently awarded a $10,000 grant from the Les Dames d'Escoffier: San Antonio Chapter.
After a severe stomach problem left her with little choice but to search for home remedies, Alysa discovered the healing benefits of bone broth. Because most broth in stores contained very few of the necessary components, she soon came up with the idea of making healthy, whole, sipping bone broth available to consumers.
"People are starting to pay more attention to not only what they eat but how it is grown," Alysa shares. "We seek to be excellent in every step of the process because that is the best way to serve our customers. We consistently hear that we are the best bone broth our customers have ever tasted and we are delighted to hear it."
When she made the choice to start a company with her husband, Isaac '12, she recruited someone she knew would be up for the challenge—her sister, Anna.
"My role is as cofounder and supporter," Anna says, "so when she was creating all the recipes, I was tasting the product and getting pictures. My role was to support her vision for what FOND could be." And a grand vision it is. Alysa has had big dreams for FOND since she first began to understand just how effective bone broth can be at treating illnesses and keeping people healthy.
"The benefits of bone broth can't be exaggerated," she says. "People are thinking it's the newest fad when really it is a return to the original superfood."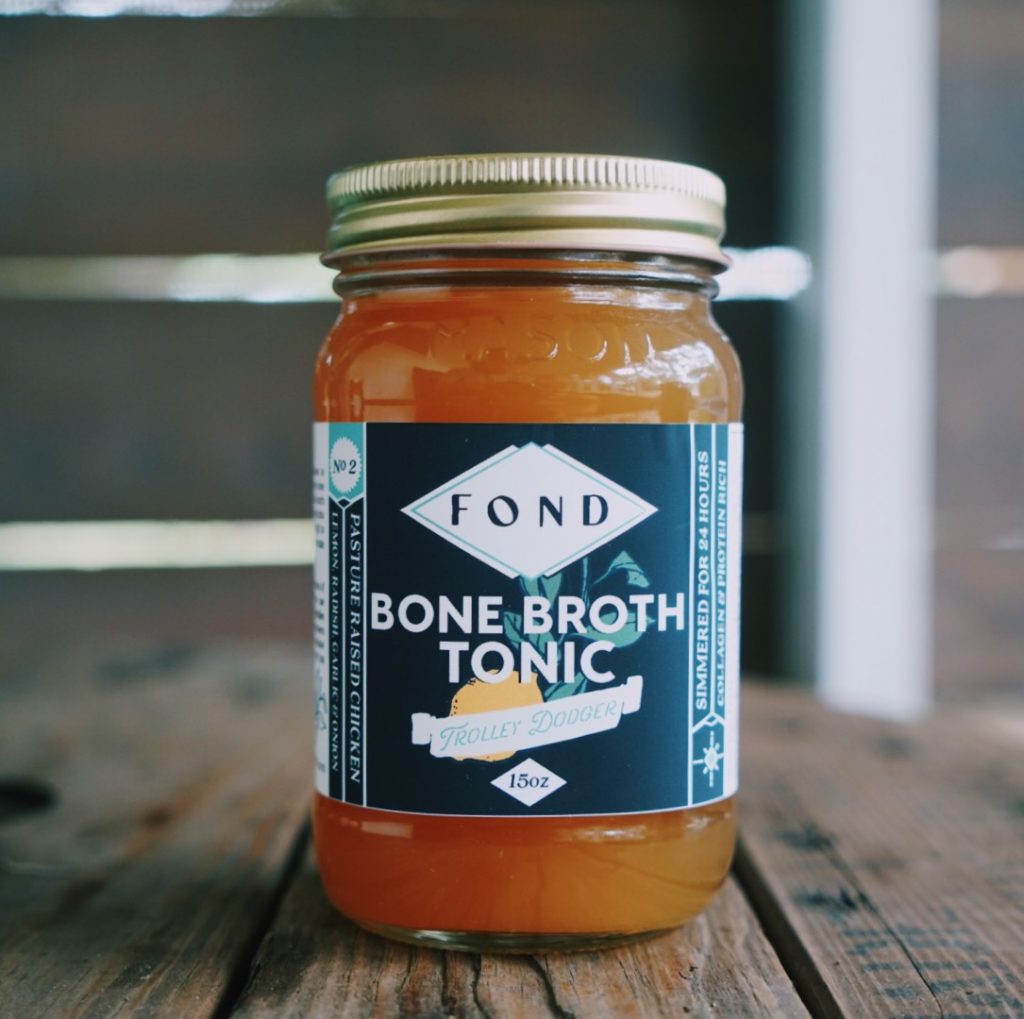 FOND Bone Broth is slowly made by hand, and according to its founders and customers is much healthier than bone broth that can currently be purchased in stores. "We wanted to create something that is homemade and on the market," Anna shares. "The reason it doesn't often happen is because it's hard."
"It takes 24 hours to make," Alysa explains, "and then we infuse it with herbs. It takes 12 hours after the canning process to be able to be sold to the customers. Our bone broth is a one-to-one ratio of meat to water, which is rare in the bone broth industry. There are no artificial additives, and we use a pressure can so we need no preservatives."
Alysa and Anna pride themselves in their company's dedication to creating the best form of bone broth. In fact, they hope to one day turn bone broth into a much more popular product.
"We see ourselves as a lifestyle product and we want to be as iconic as the Starbucks cup," Alysa says. "Part of our vision is to give people other options. For us it's also about community. There's something that happens that's much deeper and richer, and that is communion."
Ultimately, Anna and Alysa are excited for the future of their company, which has taught their family a great deal about faith. "I've learned that if God is leading you in a direction," Alysa shares, "it's often correct. The world needs problem-solvers. If you know that God is asking you to do something, don't be on the fence."
By Megan Harvey '19, communication arts