Fostering Cultures of Excellence at NEXT Summit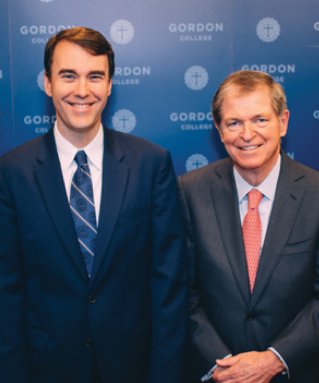 Earlier this week, dozens of Christian school leaders from around the country convened on campus for the annual NEXT Summit. Focused on "Cultures of Excellence," the two-day gathering boasted record attendance and featured a variety of sessions led by Elaine Hering, consultant with Triad Consulting; Mike Ullman, lead director at Starbucks and former CEO of J. C. Penney; and Bishop Claude Alexander, senior pastor of the Park Church (Charlotte, N.C).
In his first session, "Cultures of Excellence and the Corporate World," Mike Ullman addressed the topic of learning from adversity. Dubbed the "king of retail," Ullman has not only seen his industry through peaks and valleys over the past 25 years, but has dealt with his share of personal trials as well. "I don't know how it is in your school, but in the world of higher education we are facing a real industry headwinds," President Michael Lindsay said during his introduction. So, hearing from a leader in retail— "someone who has a lot of credibility to speak to what we're trying to do within our given institutional context"—was fitting.
Ullman went from struggling student to one of the most experienced business leaders of the present time. What was once an uphill battle in the classroom, with time became a blessing. As a White House Fellow during President Reagan's administration in his early career, he realized that "everybody has certain skills and they don't all necessarily have to line up conventionally the way everybody else thinks they should be."
A deepened understanding of his own learning style and ability empowered Ullman to step into positions of great leadership. He went on to become the CEO of Macy's, leading them out of bankruptcy in the 1900s, and was later recruited to DFS Duty Free Shops in Hong Kong, Louis Vuitton and Moët Hennessy, and most recently J. C. Penney.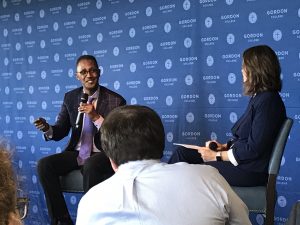 But as he led these mammoth companies, a neurological disease began to compromise his mobility. Leaning on prayer, the support of his family, and a spirit of humility, Ullman persevered. To his colleagues, he said, "We got to do this together . . . and we're going to have a lot of fun together, but you need to know that I am going to need a lot of help."
"I suspect most of you know," Ullman said to his NEXT audience, "that you learn very little from success and you almost learn everything from adversity and the things you have had to work through."
Bishop Claude Alexander relayed a similar theme in during his conversation with Vice President for Student Life Jennifer Jukanovich, titled "Race and Schools in America Today." In spite of the racial challenges and tensions that Alexander and his family faced, his mom, he said, kept them anchored. "My mom was extremely hopeful and continued to engage," he said, "and she put that in me." Today, he's a champion for what he calls "cultural translators"—people who love others and are comfortable in a variety settings.
In a time when it's easy for anger to lead to despair, he encouraged listeners that "it's the power of hope that keeps one engaged" and challenged them to continue the hard work because "none of us chose which race into which we'd be born. That was given to us by God. With that gift came burden and blessing. It's not our fault, but it is our problem." A problem, he said, that requires communal responsibility and the transformative power of the gospel.