Getting over yourself: "Deepening the Faith" devotional 8
This installment is part of a regular devotional series, "Deepening the Faith," written by Gordon faculty and staff for the enrichment of the wider College community.
For everyone who exalts himself will be humbled, and he who humbles himself will be exalted. —Luke 14:11
My brother had just started Atlanta Fest, a Christian music festival located at the Atlanta Speedway, so when he approached me about volunteering to work the event during what promised to be a hot southern July weekend, I could hardly say no. My task was to get the speakers and musicians from the airport to the venue safely and on time. Simple enough.
All was going well transporting these famous Christian artists until I was approached by one of my friends, a Christian rock icon, who pulled me aside and informed me that one our guests was quite upset. As it turns out, this gentleman was not used to being picked up in a 10-year-old Honda Civic, the only car I owned. He had informed my friend that he was accustomed to being met by a limo, or at least a "more quality vehicle."
The next day, I was off to pick-up another guest, Tony Campolo, the speaker for the day, at the local hotel. When I arrived, he was nowhere to be seen. I panicked, realizing that the floodgates were about to open. Rechecking his room and the lobby, I was left to assume I had misread the meeting time. The rain was coming down, and when I arrived at the stage area, I shared my anxieties about not being able to find Tony Campolo, to which my brother responded, "He's already here." I immediately went to him and began to apologize for what was obviously my error. He stopped me in the middle of my speech of contrition to inform me that he had simply decided to take an early walk to the venue, and he apologized for inconveniencing me. It was all his fault I had missed him, according to him, and he was so sorry. With the rain pouring down, he met a trucker who picked him up and delivered him to the gate of the speedway. I will never forget his next comment, "I was able to share Jesus with the guy."
The contrast has lived with me since.
" . . .Do not think of yourself more highly than you ought, but rather think of yourself with sober judgment, in accordance with the measure of faith God has given you." —Romans 12:3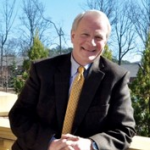 David Tilley
Senior Advisor, M.A. Leadership Program
David Tilley has a wealth of leadership experience in Christian education. In 1984, he assumed the role of headmaster of Mount Paran Christian School (MPCS) and led its move to the "new" campus from Buckhead to East Marietta. After initiating the high school program at MPCS, he accepted the position of vice president for student life at Lee University located in Cleveland, TN. While there, he received his doctorate in Leadership Studies from The University of Tennessee, Knoxville, in 1995. After 14 years at Lee University, David accepted a position as vice president for student life located in Houghton College in Houghton, NY. David returned to Mount Paran Christian School as headmaster in 2004 and just finished his final year at the school. David is the recent past chair of the board of trustees for the Georgia Independent Schools Association (GISA), current member of the Feed My Lambs board of directors, and an adjunct faculty member at Kennesaw State University, Kennesaw, GA., and senior advisor for the M.A. in Leadership program at Gordon College.