HanByul Chang '15: Leaving a Legacy
Many college students change their major and career path numerous times over their four years—not HanByul Chang. She studied chemistry throughout her time at Gordon and just recently defended her honors thesis, "Undergraduate laboratory experience on kinetics: Using the FEIII-TAML system with common food dyes," based on four consecutive years of research.
Chang began her project as a first-year chemistry student interested in the potentials of research. She worked at first under advisor Dwight Tshudy, a member at that time of Gordon's chemistry faculty, who helped Chang harness her love for analytical lab work. While studying the kinetics of catalytic degradation during her first year at the College, Chang found herself passionate about the work and decided to keep up with her research beyond her first year and, eventually, up through graduation.
Her research has spawned a dream. "I want to work in an analytical lab or pharmaceutical lab after graduating. I love analytical chemistry and that is from the research I did," she says.
While at Gordon, Chang also completed a pre-law minor. "I think the fact that I can pursue both of my interests that are unrelated is one of the benefits of a liberal arts education," she says. This benefit translates to extra-curricular activities, too; while at Gordon, Chang has participated and held office in the American Chemical Society, worked as the Overseas Missions Intern for the Student Ministries Office, aided the Office of the Executive Vice President with international projects, and assisted in the Office of Institutional Research and Strategy.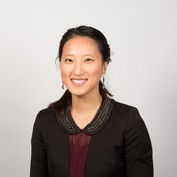 This year Chang serves as a Gordon Presidential Fellow under Jennifer Jukanovich, the vice president for student development. Chang says she applied for the program as a way to invest in Gordon's culture outside of the natural sciences. "I wanted to give back to Gordon what I received from faculty and staff," she says. "I have learned so much about what it means to be a servant through simply observing faculty and staff who are constantly thinking about the common good and benefits of people."
Chang is exuberant with praise for the Presidential Fellows Program and highly recommends the experience for other students. When asked about the greatest part of the experience (thus far!), she says: "It gives you the freedom to be creative in ways to leave a lasting legacy for the improvement of this institution."
HanByul Chang will graduate this May with numerous academic and professional distinctions. Her four years at Gordon—filled to the brim with activities, offices, and awards—will certainly leave a legacy for Gordon's student body.
By Rachel Kauffman '15 Communication Arts