How to Safely Enjoy Your Favorite Summer Activities During COVID
As areas of the country re-open and others close, we're in a season of wondering what the rest of this summer will look like. Sure, the answers to our burning questions are moving targets, but there is still fun to be had. To get a better idea of how we can enjoy some of our favorite summer activities while taking care of ourselves and others, The Bell reached out to a few knowledgeable alumni who have the inside scoop on activities like camping, berry picking and picnics in the park.
Visit Your Local Farmers' Markets
Risk: Low
Abigail Foster '16 is an office assistant for a farmers' co-op in Lancaster, Pennsylvania and, as such, she is connected to over 100 family farms. These farms and others across the country have made many changes to their day-to-day operations so that we can still enjoy some fresh air and produce.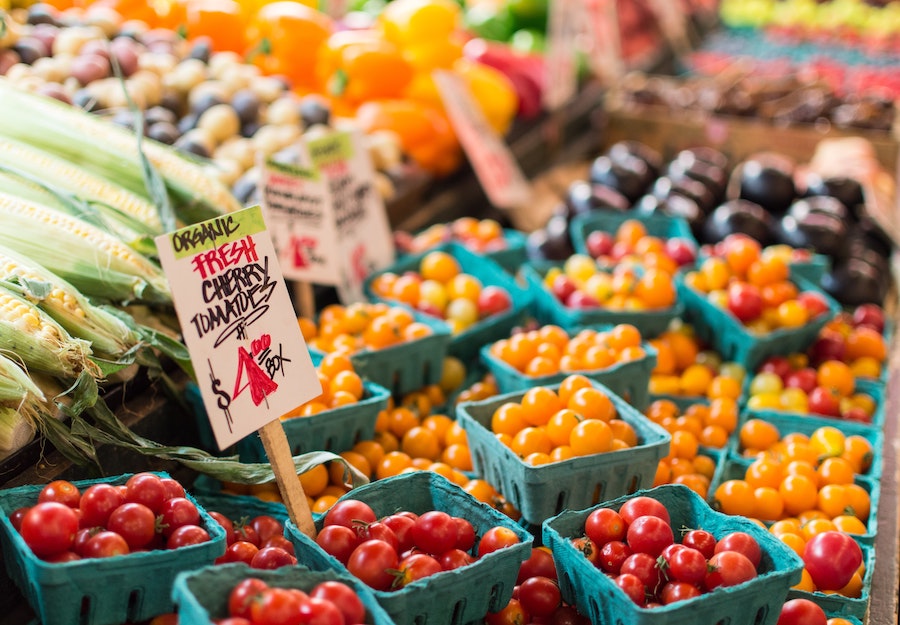 Before visiting a farmers' market in your area, see if you can reserve shopping slots and preorder products online for pickup. This way you can skip the long lines and make sure that farm stands don't run out of your favorite produce. Also, like most grocery stores, farmers' markets have set aside special shopping hours for seniors and other immuno-compromised individuals. So, as long as you're wearing your mask and practicing social distancing, visiting your local farmer's market is actually a lot safer than a trip to the grocery store because of its open-air environment. It's also a great option for city-dwellers because, due to the popularity of farmers' markets in urban areas, many are often within walking or biking distance.
If you have never explored a farmer's market (purchased a CSA membership or visited a local farm), Foster says, "It's a great opportunity to switch things up. The pandemic has really pinpointed the fact that we should focus on our local products to be able to feed our local economies, literally and figuratively."
Pick Local Fruits and Veggies
Risk: Low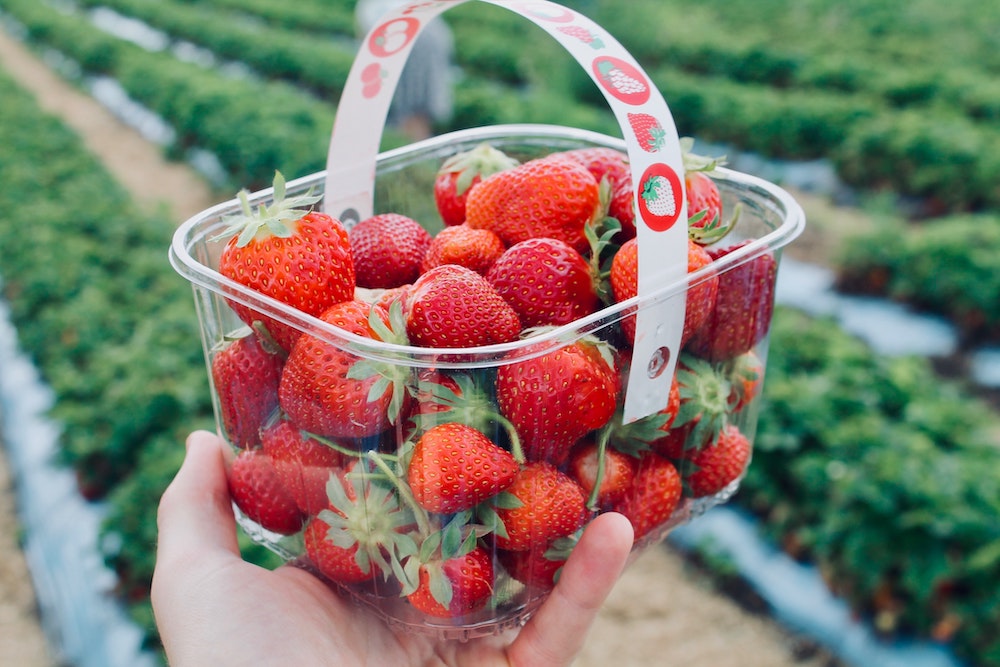 Strawberry season may be over, but blueberry season is in full swing. Foster explains that many local farms are still open for u-pick. To increase the safety of picking summer fruits and vegetables, many farms are limiting the size of visiting groups, requiring visitors to wear masks and stay at least one row's distance apart, and are mandating that children be of a certain age (so that they, too, can safely practice social distancing). Also, you'll find that picking fruits and vegetables is a lot safer if you don't sample the food as you go and if you wash the produce when you get home.
Share Summer Recipes with a CSA
Risk: Low
Another major component of Foster's work at the co-op involves aiding their extensive Community Supported Agriculture (CSA) program. She's a CSA member herself, which means that every week she receives a basket of fresh produce from a local farm. Not only is she learning how to cook produce that's in season (with the help of this cookbook), she is also using her CSA to reach out to friends and neighbors.
Foster explains, "I usually split my CSA with my fiancé, but sometimes I have three heads of lettuce and know I'm not going to make enough salad to eat all of it. It's something I can share with my neighbors."
Having extra produce has also inspired her to cook meals for her friends. Last May, when one of Foster's friends was celebrating her first Mother's Day, Foster dropped off a rhubarb spoon cake via contactless delivery (and a wave through the window). She says, "We might not be able to get together with our friends," says Foster, "but there's nothing stopping us from dropping off meals."
Host a Barbeque or Picnic with Friends
Risk: Low to High
(depending on how closely you follow the CDC health guidelines)
Restaurateurs Ryn '10 and Kevin '09 Grant run The Castle Board Game Café in Beverly, MA, which means they've been learning how to make a kitchen and dining room ready during COVID-season. Here are some tips, several of which are inspired by the changes the Grants have made to ensure the safety of their customers, that can help you pandemic-proof your picnic.
Low-risk option: Ask your friends and relatives to bring their own food, utensils and picnic blankets. Space picnic blankets or lawn chairs at least six feet apart. Wear masks when you're unable to follow the six-foot rule. Bring hand sanitizer.
Medium-risk option: If you decide to cook for your guests and serve them outside, follow all of the CDC requirements and maintain a contactless environment—that means no shared food bowls (nix the salsa and chips). It's also wise to designate one person to handle the food, so that multiple people do not touch the same surface.
Even though you may be ready and eager to socialize with friends in person this summer, it's important to respect people's boundaries, says Ryn. She explains, "While we all crave for things to be back to normal, I think it's important to recognize we just aren't there yet. If you have friends who aren't ready to visit, don't make them feel bad! This pandemic is very real and different people have different risk levels, and pressuring anyone to do something that makes them feel unsafe is super uncool."
Visit National Parks
Risk: Low to Medium (depending on how far you choose to travel)
Rachel Collins '05 is a visitor use project manager for the National Park Service (NPS). Over the last several months, it's been her job to help National Parks prepare to safely receive visitors before re-opening. Right now, Collins advises outdoor adventurers to "recreate responsibly."
It's important to recreate close to home because most National Parks are in remote areas of the country with small hospitals, says Collins. They often lack trauma centers and other resources, so it's wise to plan ahead, find creative ways to support local tourism economies, and be super safe to ensure small hospitals don't become overwhelmed.  If you are going to visit an NPS site this summer, check out the "Plan Your Trip" pages on each park website for important updates and trip planning info before you leave home.
National Park Alternatives
State Parks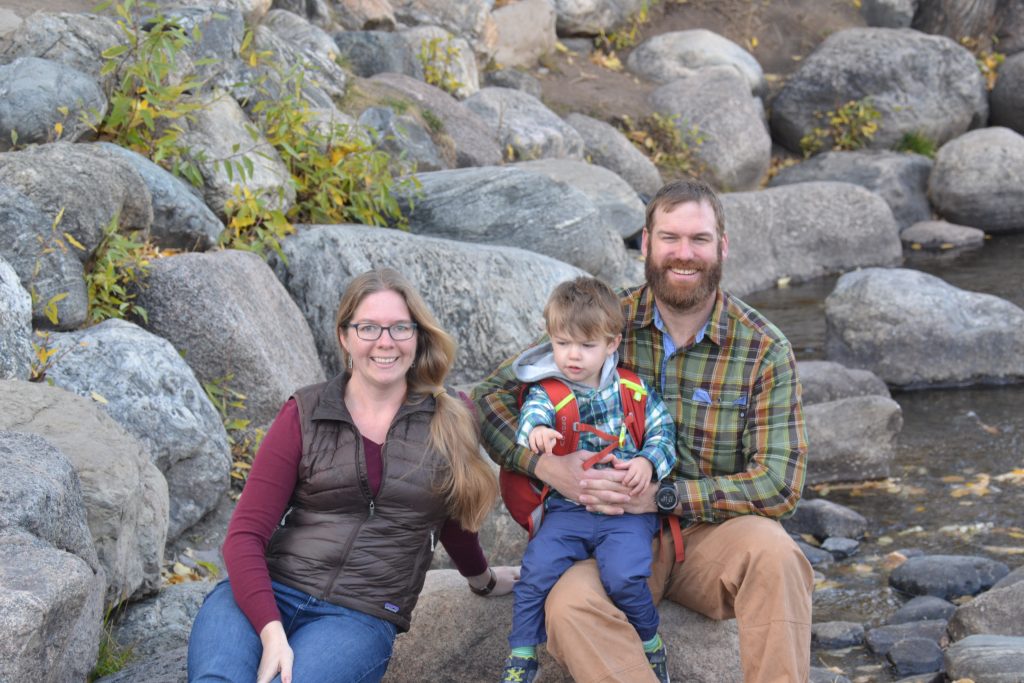 Although you need to do more research and planning than usual, many private and state parks are open for day-use reservations and overnight camping. For the most up-to-date information, go to reserveamerica.com and recreation.gov. If you plan on crossing state lines, make sure you familiarize yourself with state regulations. Many states are still advising against crossing state lines and some campgrounds may require you to quarantine before you can be admitted into the park.
Local Trails and Other Micro-adventures
Beside the creek near their family home in the Denver suburbs, Collins, her husband and her four-year-old son, Riggs, recently "played an epic game of sink or float." Collins says, "We're taking this season to forgo some of our bigger adventures and embrace the wonder in small things. We don't need to go to the Rocky Mountains or the Grand Tetons to play sink or float."
With resources like Alltrails, TrailLink, Fitt, Outdoor Project, Trailforks and even Google Maps, it's never been easier to find special outdoor places that are right under your nose.