Sabbatical Sojourns: Mike Jacobs
Over the course of the spring 2018 semester, five faculty members took sabbaticals to engage their fields. We spoke with each professor to learn more about their undertakings to share in The Bell and the upcoming fall 2018 issue of STILLPOINT. This is the second installment of "Sabbatical Sojourns."
From Estonia to Latvia to Lithuania, Mike Jacobs (political science and international affairs) explored the potential for an international seminar in the Baltics during sabbatical. Establishing contacts abroad, Jacobs met with local government agencies and United States Embassy officials to lay groundwork for a program.
With an objective to get out of the classroom and into the world, the seminar—which Jacobs hopes to launch in 2020—would use the Baltics as a setting to examine international business and geopolitics.
Entrepreneurial students will benefit from exploring Estonia's e-government and promotion of start-ups ("One can start a business online in a matter of minutes," Jacobs says). On the political end of the spectrum, students will be interested in how U.S. diplomats work with Latvian investment promotion officials to build commercial bridges between the two countries. Students interested in creating more just societies will see how Lithuania's ascension to the Organization of Economic Cooperation and Development is spurring the country toward reining in corruption.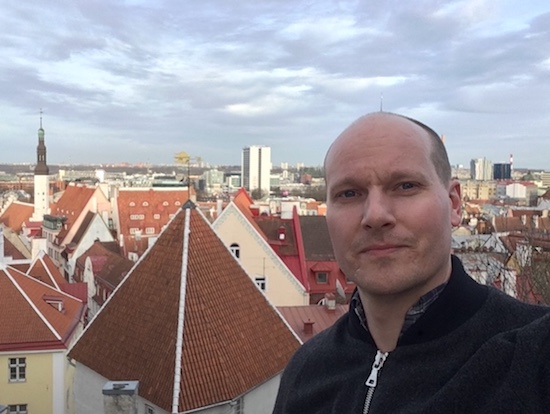 As former Soviet states and NATO partner countries, Jacobs says the Baltic states are fertile territory for the study of geopolitics. "One can't understand the Baltic countries without delving into their communist past," he says. "Overall, the Baltic states are youthful, optimistic countries yearning to show the world that they should be viewed as liberal, developed western countries and that labeling them simply as former Soviet republics is no longer an accurate description."
Continuing the research he conducted for his dissertation at the University of Nevada, Reno, also Jacobs worked with his former Ph.D. advisor to write an article about bilateral investment treaties. The article analyzes the terms and conditions by which foreign investments in one country are treated in other countries.
Finally, after months of reading and writing, Jacobs attended the Christians in Political Science conference at Covenant College, GA, to present a literary review on "Two Kingdoms Theology." His work considered the nature of Christians' engagement with politics in light of this theology, which says that Christ rules over creation in different ways—over all of creation as creator and sustainer, and over the Church as savior and redeemer.