Sabbatical Sojourns: Elaine Phillips
Over the course of the spring 2018 semester, five faculty members took sabbaticals to engage their fields. We spoke with each professor to learn more about their undertakings to share in The Bell and the upcoming fall 2018 issue of STILLPOINT. This is the third installment of "Sabbatical Sojourns."
Sabbatical for Elaine Phillips (biblical studies and Christian ministries) meant trotting the globe.
The centerpiece of her semester away was research during the month of April at Tyndale House, a residential library in Cambridge, England, that is devoted to fostering evangelical scholarship. In addition to daily opportunities to tap into the wisdom of other scholars from around the globe, Phillips also had access to reading privileges at the University of Cambridge Library. With world-class resources at her disposal, she completed two articles for Volume II of the Geography Commentary (Lexham Logos) dedicated to the book of Acts.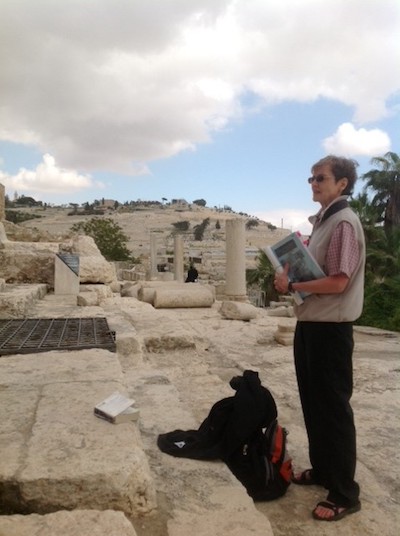 An intriguing discovery during her research in Cambridge was finding that Tyndale House holds significant maps of Israel from the British Mandate period. Particularly studying an old map of Jerusalem, along with an arcane Latin source from the 17th Century, "opened another small window on our understanding of the location of the pool of Siloam (John 9)," she says. "I'm hoping it will coalesce into an article."
Onsite in Israel for most of March and again in May and June, Phillips taught three separate intensive field study courses on the historical geography of the Bible. Field days first explore Jerusalem and then expand to Israel's main regions of the country—the hill country, the coastal plain, southern locations, Galilee and the Golan Heights, and the Dead Sea. "In every location," Phillips says, "we unpack the relevant biblical texts as they have been shaped by the Land in which God chose to plant His people."
Students in the courses came from a wide range of backgrounds: Denver Seminary, Multnomah University, Cedarville University and Westmont College, along with a number of business and professional individuals. In rare free intervals of time, she began research for an advanced field study course in Bible geography.
Stateside for a short period, Phillips also developed and taught a weeklong course, "The Heart of the Old Testament: Loving God and God's People," for students in Chesterton House, Cornell University's Center for Christian Studies. Because Gordon has an academic relationship with Chesterton House, Cornell students enrolled in the course received Gordon credit.