Jeremy Puz '09: Turning Furniture into Art
What began as a simple home project has turned into a thriving woodworking business in Beverly, Massachusetts. Jeremy Puz '09 built a shelf out of discarded pallet board for his wife, Nicole, and discovered the unique potential that pallet wood could bring to furniture. Taking advantage of the growing interest in rustic homemade furniture, he launched the multiyear creative process for what is now a business called Ingrained.
After finishing the pallet shelf, Puz set up shop in the basement of his apartment and began to construct benches in his spare time. When a fair in Salisbury, Massachusetts, invited local artisans to advertise, buy and sell their products, he jumped on the opportunity. The positive response inspired him to start a furniture side business in 2013 alongside his already full-time landscaping business.
A serial entrepreneur, Puz had started the landscaping business during his junior and senior years at Gordon to help relieve college expenses. The project took flight and he was soon serving several clients throughout the North Shore.
As the landscaping business continued to grow and the Puzes settled into their first home and welcomed a baby boy, Puz slowly put woodworking to the side. But a pitstop on a family road trip to New Hampshire changed that. At a local country store, he spotted one of his pallet board furniture pieces. "In that moment," he said, "I felt God speak to me, reigniting my passion for woodworking—and the business started up again."
Puz soon found that there was a ripe market for custom tables. At the same time, The Castle, a board game café in Beverly was beginning to take off. Owners (and fellow Gordon alumni) Kevin and Ryn Grant '10 asked him to create his signature rustic tables for their new venture.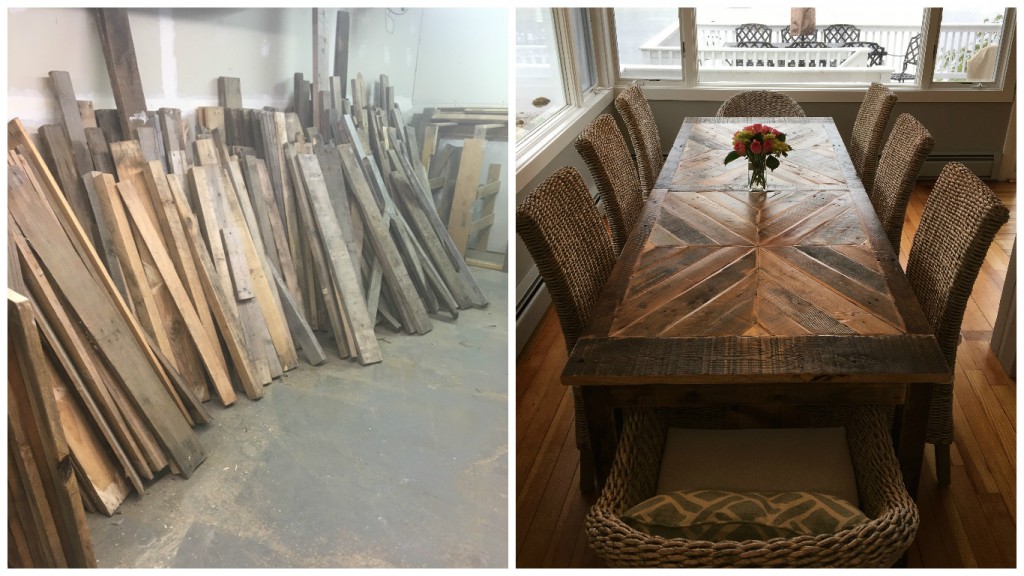 Ingrained's uniqueness lies in Puz's keen attention to detail. "I handpick every piece of wood, making sure it laces well with each piece of furniture," he says. "Pallet wood isn't straight, and making boards fit together requires a lot of work. I know the texture, thickness and pliability. Pallet wood has different characteristics that I aim to highlight, drawing your eye to the piece and making it into its own art form."
One of Puz's goals for Ingrained is to transform spaces: "I wanted to do more than create unique furniture; I wanted to create unique spaces." Last month, he donated some of his tables for the Association for Christians in Student Development conference held at Gordon—fittingly themed "Come to the Table."
From custom designs to wedding and special event rentals, business at Ingrained is thriving. But Puz said the success didn't happen overnight. In fact, it was the hard times that brought him to where he is today.
"At Gordon I had to pay for all my tuition, books and meals," he said. "During the first month I hurt my back pretty bad while trying out for lacrosse. God brought me to a place of brokenness and it was a humbling time. However, when my back healed, I got a job at an estate in Manchester-by-the-Sea, Massachusetts, and my landscaping business came from a broken situation.
"I learned how to trust in God and live by faith," Puz said. "Starting a business—or a few—is learning to live on faith and I try to run my own with the help of the Holy Spirit."
Follow Ingrained on Facebook >>
By Alex Rivera '16, English language and literature