Memorial Service for Elisabeth Elliot Gren Held at Gordon College June 23
"You are loved with an everlasting love."
Elisabeth Elliot Gren, the well-known Christian writer and speaker, died June 15 at her home in Magnolia, Massachusetts, at the age of 88. A memorial service was held Tuesday, June 23, in the A. J. Gordon Memorial Chapel at Gordon College.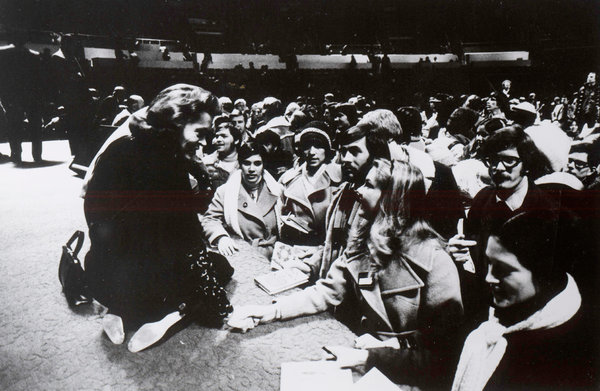 In its obituary, the New York Times called Mrs. Gren a "tenacious missionary" and noted that she "inspired generations of evangelical Christians by returning to Ecuador with her toddler daughter to preach the Gospel to the Indian tribe that had killed her husband, Jim Elliot."
Her first two books, Through Gates of Splendor (1957) and Shadow of the Almighty (1958), tell of Jim Elliot and his missionary colleagues, and the events that followed their deaths. Historian Kathryn Long of Wheaton College , Mrs. Gren's alma mater, called the books "the definitive inspirational mission stories for the second half of the 20th century" (quoted in the Times obituary). Mrs. Gren's subsequent books include a biography of Amy Carmichael; a novel, No Graven Image; and many inspirational books, including Passion and Purity: Learning to Bring Your Love Life Under God's Control.
In the fall of 1974 Mrs. Gren became an adjunct professor on the faculty of Gordon-Conwell Theological Seminary. In the mid-1970s she also served as one of the stylistic consultants for the committee of the New International Version of the Bible.
In 1981 Mrs. Gren was appointed writer-in-residence at Gordon College. In announcing her appointment, then-Executive Vice President Gordon Werkema praised her "significant contributions to evangelical Christianity, her quality writing and speaking, and her commitment to excellence in Christian higher education."
In an interview conducted at Gordon she described the essential message of all of her writings as "obedience to God, whether I'm talking about missions, education, or the roles of men and women. What I'm interested in is discipline and obedience."
Survivors include her husband, Lars; her daughter, Valerie Shepard, and son-in-law, Walter, of North Carolina; eight grandchildren; four great-grandchildren; and her siblings Philip Howard, David Howard, Virginia Howard Sohn, a 1984 Gordon College alumna; Thomas Howard, a popular professor of English at Gordon for many years; and James Howard.
Photo: Elisabeth Elliot with students at the Student Missionary Convention in Urbana, Illinois, in 1976 (Billy Graham Center archives, Wheaton College, Illinois). 
Other obituaries: Christianity Today, Christian Examiner, The Gospel Coalition and The Gloucester Times.