Stories from Scotland (Part 2): Soul Searching and C. S. Lewis' Grave
Did you know that more than 40 percent of Gordon students study abroad at some point during their four years? Business administration major Chan Mi Kim '16 is one of them. Having lived in Korea, Vietnam and Malaysia—and traveled extensively during a gap year before coming to Gordon—Chan Mi is no stranger to the global community. This summer, she's bringing a three-part series on her recent study abroad experience in Scotland to The Bell. If you missed part one, read it here.
This post is about my walk with God while I was abroad. The glory of my blissful semester goes to the grace of God, but I must admit that at times I was very confused and conflicted. I want to share my journey with candor, with all of its victories, struggles and questions.
The battle is that there seems to be no battle.
When I was in Boston, I always felt that spiritual battle was in full motion. I, and everyone around me, had trials to overcome and struggles to fight through. I could not survive if I didn't cling to God with the utmost urgency and eagerness, which was satisfying intimacy with him. In Edinburgh, however, there seemed to be no worries—not just for me, but also for most of my friends. Life seemed like a yacht under easy sail, which tempts us to think that we don't need God. There was hardly any urgency, desperation or heart-felt seeking. I realized that the real test is not seeking God when in need, but earnestly and sincerely seeking God when everything seems to be great. The spiritual battle of Edinburgh was that there seemed to be no battle.
Still part of life, but not all.
Being apart from the Gordon community and without close Christian friends, I found it more difficult to pursue God with the same passion, urgency and consistency. I did all the right things to be "faithful" and to keep him as my priority, but still he wasn't my all, and for this I was troubled. To me, God is not just my priority; he is my all. I avoided sin, but I can't say I pursued holiness. For this, I sincerely repent and pray that God will give me wisdom to learn from my time in Edinburgh without false condemnations and to reconcile some of the confusion that is still not resolved yet.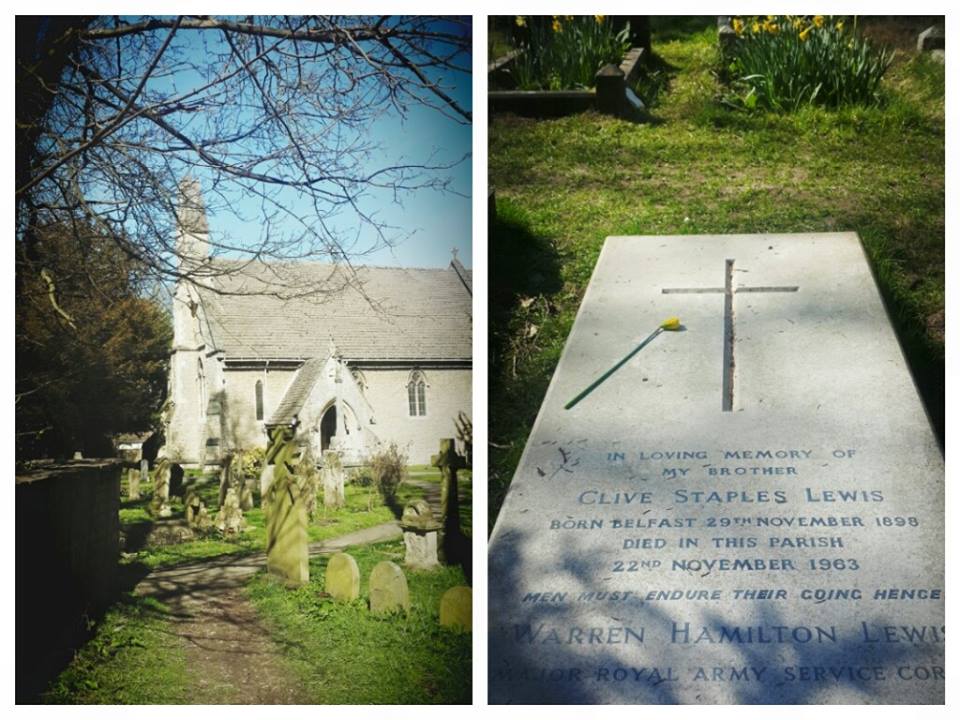 How God met me by C.S Lewis' grave.
I want to end with a story. In March, I traveled to Oxford to worship at Holy Trinity Church where C. S. Lewis, one of my favorite writers, worshiped most of his adult life.
Getting lost on the way, I arrived late just to find the door locked. Still, I was eager to worship, so I went to the side of the church and leaned my ears to one of the spider-webbed windows. It didn't matter that I couldn't make out the slightest bit of what the preacher was saying, or that I was outside of the church in cold spring wind getting spider webs on my coat. I worshiped with all my heart and God's spirit and truth and glory was full. That morning, I had one of the most powerful moments of meeting God in worship.
Only towards the end of the service did I discover that the door actually was not locked—it was just heavy. Even though it was silly that I waited outside while the door was open, I'm thankful that God called me out alone to meet him in solitude. My faith was definitely tested while in Europe, but God met me in powerful ways such as this. I pray that lessons from this semester will make my faith real not only in Christian environments but even more so in the world.
Stories from Scotland (Part 1): Coffee and Bagels vs. Tea and Biscuits >>
Stories from Scotland (Part 3): Tips for Traveling Europe like a Traveler, Not a Tourist >>