Paul Turbiak '05: Imitating Christ by Imitating Others
Like a good play, life has its own plot twists. That has certainly been the case for Paul Turbiak '05 who left the North Shore for Los Angeles 13 years ago to become a professional actor.
"You'll be entirely sure what the next five or ten years will look like, and then things happen to force or frustrate or surprise that," Turbiak says. "The story you have for yourself and the story God has for you are often different."
Turbiak's career has certainly taken him to places he never imagined. Since moving to Los Angeles, Turbiak has performed on-camera and on-stage for a variety of notable theater and film projects. He's acted in everything from Shakespeare's A Midsummer Night's Dream at the Will Geer Theatricum Botanicum to an adaptation of Dr. Jekyll and Mr. Hyde with the Actor's Co-op of Hollywood. And his work has been heralded by publications such as the L.A. Times and L.A. Weekly.
Even though theater is his first love, Turbiak's acting career has recently taken another twist, launching him into the voiceover industry—specifically making audio descriptions for major film companies. Audio descriptions are supplemental narration tracks that describe what's happening visually in a movie so that people who are blind or vision-impaired can understand and experience the film. In the last two years, Turbiak has worked on audio descriptions for popular films like The Greatest Showman and The Shape of Water. This exercise has given him unique insight into the experiences of people who can't see and taught him how best to capture the screen through voice.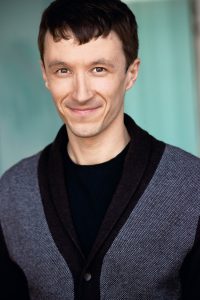 "As Christians, we all have experience as actors because we're taught to be imitators of Christ," Turbiak says. "I think that applies to me as a person and also as an actor, in being someone else. God has given me this gift. When I empathize, when I seek to understand, relate and embody someone else—my own self, who God created me to be, truly emerges."
In addition to his unexpected success in voiceover work, perhaps one of the biggest twists of Turbiak's life was the fact that he became a theater major at all. During his first semester at Gordon, he auditioned for the Theatre Department's production of Shakespeare's Twelfth Night on a whim. His charisma landed him a role as Malvolio, one of the central characters—an experience that ultimately changed his life.
"It set me on a journey to a series of conversations, productions and engagements with faculty to where I felt that was where the calling of my life was headed," says Turbiak.
Now, this week, Turbiak returns to Gordon to play C. S. Lewis in the Theatre Department's production of Freud's Last Session, as part of the many festivities for Gordon's Homecoming and Family Weekend. The play features a fictional conversation between Lewis and Freud as they debate over love, death, the nature of man and other big questions. 
"What I think this play does that is so crucial at this time in the world is that it models a framework for civil discourse for people who are on dramatically different ends of the spectrum," Paul says. "I hope that people come to see the play and come away with a new perspective."
By Sydney Cooney '19, English language and literature