Your greatest talent: "Deepening the Faith" devotional 3
This installment is part of a regular devotional series, "Deepening the Faith," written by Gordon faculty and staff for the enrichment of the wider College community.
The heavens declare the glory of God; the skies proclaim the work of his hands. —Psalm 19:1
In Annie Dillard's book, Pilgrim at Tinker Creek, Dillard describes how we overlook things that seem as insignificant as pennies. These things, she argues, point us to the extravagance of God. She writes:
"The world is fairly studded and strewn with pennies cast broadside from a generous hand. But—and this is the point—who gets excited by a mere penny? . . . But if you cultivate a healthy poverty and simplicity, so that finding a penny will literally make your day, then, since the world is in fact planted in pennies, you have with your poverty bought a lifetime of days. It is that simple. What you see is what you get."
Dillard encourages her reader to pause, to take a breath and rest in God's presence. We should aim to see the world with eyes like a child's, where everything is God's—expressive, alive and begging to be found.
In the same way, my five-year-old son's wide-eyed wonder and breathless awe remind me to view the world with less passive eyes. His joyful exclamations encourage me to be more aware of the pennies God scatters ("studded and strewn") through creation.
Here are a few pennies that can "literally make your day." Sunrise and sunset. The smell of coffee. A hug from a friend. An encouraging word from a teacher. The aroma of flowers when you walk outside. The pile of leaves deposited wind-blown, just-so, next to the trunk of a tree. The first-bite crunch of a crisp apple. The squeaking sound of shoes on a gym floor. The snap of a basketball net from a perfectly made shot. The rhythm of your best friend's laughter. Or the scratching noise from a classroom full of moving pencils. These are all things that, if we are paying attention, should point us to our Creator.
These all express a common grace of which there is an inexhaustible supply. After all, "the world is in fact planted with pennies." Ben Patterson, the campus pastor at Westmont College, wrote in his book, He Has Made Me Glad, that "If we could fully see the grace shown us each day, no amount of gratitude or joy could possibly be excessive."
Your greatest talent is to look around, to taste, see and worship the God who fills the Earth with grace and beauty beyond measure. Take time to notice a "world fairly studded and strewn with pennies cast broadside by a generous hand." This is Immanuel ("God with us"), whose "unspoken truth is spoken everywhere" (Ps 19:4 MSG). Will you take time to notice?
What you see is what you get.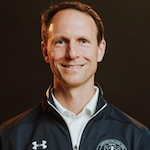 Carter Shaw
Head Women's Basketball Coach
Carter Shaw came to Gordon after spending the previous two years as head coach at NCAA Division II California State University, Los Angeles. His Golden Eagles posted double-digit win marks in both seasons and a CCAA tournament appearance during his short time in Los Angeles.
Before taking over at Cal State LA in 2014, Carter spent 16 years as a Division I assistant coach which included stops at UC Riverside, Colgate University, Ball State University, UC Santa Barbara and Colorado State University. He got his start in collegiate coaching as an assistant at his alma mater, the University of Utah.
Carter was part of a select group of thirty-six head coaches from around the country who attended The Center for Coaching Excellence, an invitation-only, elite leadership program in 2015.