Physics Professor Receives Over Half a Million in National Science Foundation Research Grants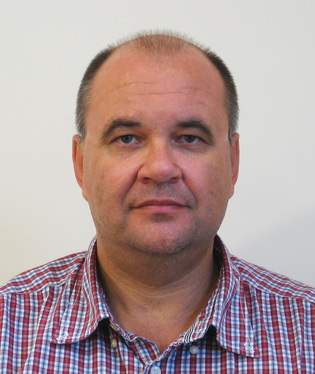 The National Science Foundation (NSF) has awarded Associate Professor of Physics Dr. Oleksiy Svitelskiy over half a million dollars between two major research grants.
The National Science Foundation funds projects "at the frontiers of science and engineering," monitoring research communities to identify projects most likely to result in "spectacular progress." Svitelskiy's research, which will include Gordon students, promises to be no exception.
His first grant proposal, "Collaborative Research/RUI: Dynamic Control and Separation of Microparticles in Fluids using Optical Whispering Gallery Mode Resonant Forces," involves research at the forefront of increasing control over cutting-edge biosensor technology, which would ultimately benefit the medical field.
The "whispering gallery" effect is a well-known phenomenon in physics. It uses geometric proportions to explain why in certain circular rooms two people standing against the walls on opposite sides of the room can hear each other whispering, but are unable to hear the other person when they stand in the floor space in between. Perhaps the most famous whispering gallery is the dome of St. Paul's Cathedral in London, as well as the Mary Baker Library's Mapparium here in Boston.
On a micro level, light behaves the same way sound waves do. Svitelskiy's research will test methods of controlling microscopic variables, helping science better utilize tiny, optical whispering galleries to detect viruses and antibodies in human blood samples.
The second proposal, "RUI: Collaborative Research: Acoustic Study of Lattice Dynamics and Elastic Properties in Perovskite Dielectrics and Ferroelectrics," also involves Dr. David Lee, chair of Gordon's Physics Department. Lee and Svitelskiy will continue development on a new generation of nano-electromechanical devices—tiny super-sensors that will be capable of detecting even the smallest amounts of various chemicals.
"For example," he explained, "one of the applications could be an ultra-sensitive scale which would be able to weigh one, single hydrogen molecule."
He believes the sensors could be used across medical, legal and environmental fields—in more precisely detecting sugar levels in diabetic patients, faster drug and alcohol testing in law enforcement, and identifying trace amounts of undesirable substances in the atmosphere.
Svitelskiy holds a bachelor's in radiophysics from Shevchenko University in Ukraine and a Ph.D. in experimental solid-state physics from Lehigh University. He did post-doctoral research at the National High Magnetic Field Laboratory, the National Institute for Nanotechnology and the University of North Carolina. Most recently, he was a teaching and research fellow at Colgate University before joining Gordon in 2014.
As one of the first Gordon faculty members to receive grants of this magnitude from NSF, Svitelskiy recognizes his responsibility to represent Gordon—and Christian scientists—well in the research community at large. "I don't know if it's a gift or an assignment," Svitelskiy said.
"Physicists are studying God through studying his creation," he says. The deeper he wades into the study of physics, the more Svitelskiy says he recognizes the undeniable intricacy of design.
"At some point," he said, "you realize that the smallest deviation from any of the parameters would bring total ruin of the whole world. I cannot believe that this world could have come into existence by accident."
Svitelskiy is optimistic that we will see the first fruits of his work within the next three to four years, as soon as 2020.
By Grace Shaw '19, philosophy