Social Venture Challenge "Regenerates" at Gordon College
Last week, four teams went head-to-head in the fourth annual Social Venture Challenge at Gordon College, each vying for their share of the $10,000 prize money. Having risen to the top through previous elimination rounds, the groups were chosen to pitch their ideas to a panel of esteemed judges in this Shark Tank style event hosted by the Center for Entrepreneurial Leadership (CEL).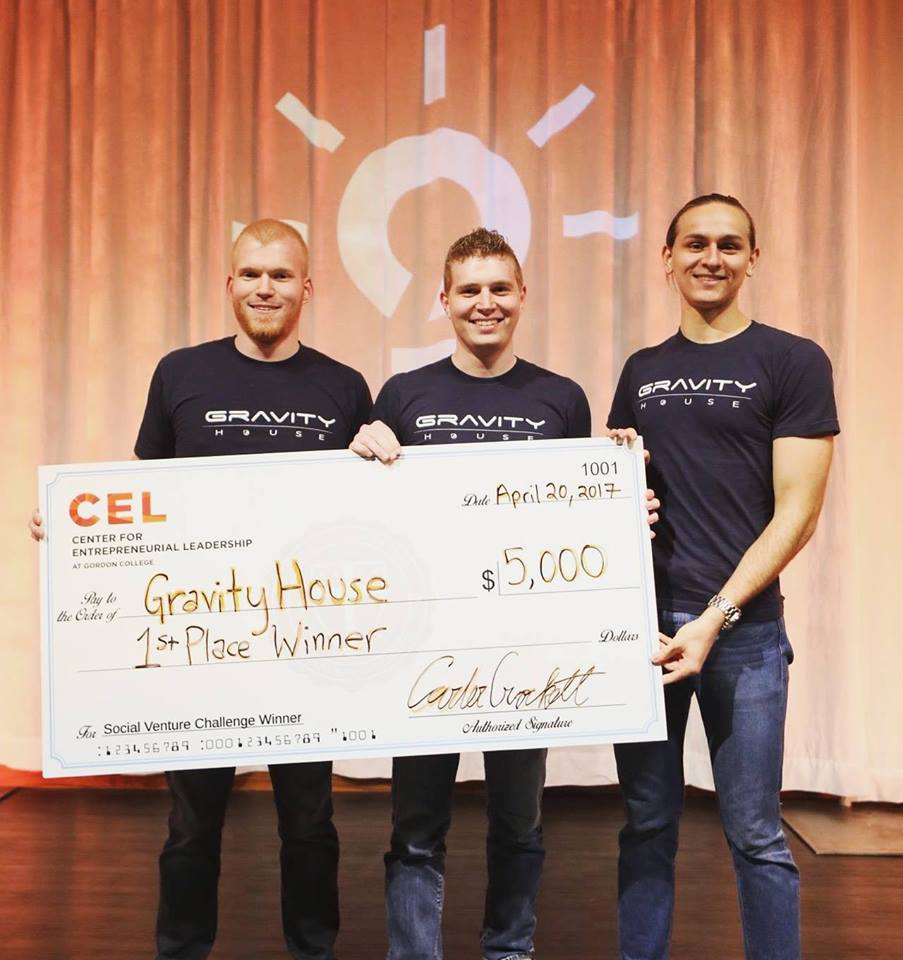 The coveted $5,000 grand prize went to Gravity House, a venture started by Richard Teunis '17, Seth McKinney '19 and Andrew Crossman '17—the self-proclaimed "experts in party culture." Gravity House seeks to change the college party culture by hosting alcohol-free parties across college campuses. They've already hosted three successful parties for student on the North Shore, and aim to expand to other areas in New England next year.
In second place with a prize of $3,000 was Kwathu Bags, run by Emily Sheetz '20, David Walczak '20 and Courtney Stoltzfus '20. "Why buy a bag when you can buy an opportunity from us?" they argued. Kwathu seeks to help Zambian children attend school. Every bag is uniquely made of African fabrics and all proceeds go to help sponsor children in Zambia.
For the first time ever, the $2,000 third place prize was split between two teams: Jueko and Colour Book. Jueko—the brainchild of Zachary Shores '19, Kenny Lowell '19, Jeremiah Northcutt '19 and Kaden Harrell '19—is an import business that seeks to raise awareness about endangered species by selling ethically made stuffed animal pillows. To start, they plan to sell Panda Bears pillows, and will donate 10 percent of sales to the Wildlife Conservation Society.
Run by Suah Kim '20 and Claudia Kim '18, Colour Book aims to create special, interactive books out of old photos submitted by the customer. Coloring helps stimulate brain activity which can help people retain memories and can serve as a good activity for Alzheimer's patients and their families. For this reason, 10 percent of company profits will go to the Alzheimer's Foundation.
This year's event was themed "Regenerate: to boldly create long-lasting communities of growth and flourishing. "We employed the theme 'Regenerate' this year to suggest entrepreneurship is a generative art," says CEL Director Carter Crockett. "Events like this demonstrate just how contagious a good idea can be."
Judges, who flew in from as far as California and Texas, included: Sarah Bartley '05, senior director of community impact for United Way; Dr. Dale Eesley '87, director of the Center for Innovation, Entrepreneurship & Franchising at the University of Nebraska, Omaha; Dr. Carrie Endries, senior portfolio manager and director of impact investments at Reynders, McVeigh Capital Management; Eric Stumberg, co-founder and CEO of Tengo Internet; and Kaitlyn Trabucco '07, co-founder and COO of Educents.
"The judges were impressed with the caliber and conviction of each of the teams," Crockett says. "In the end, they were most impressed by those who seemed most passionate about impact and realistic about the struggle to achieve it."
The Social Venture Challenge is similar to business pitch competitions many campuses offer, but is intentionally designed to support the variety of student interests across all majors. In this fourth year of the popular campus-wide event, once again the reception and other venues were filled to capacity.
"Starting a venture is certainly not for everyone," Crockett says, "but to see a few ambitious students develop their creative confidence in this way is awe-inspiring for those of us in the audience, and potentially career and life-changing for the venture teams."
By Megan Harvey '19, communication arts