SVC Finalists Part Three: Building On-campus Transformation
The Social Venture Challenge at Gordon College has never been more entrepreneurial in spirit. For the eighth year, student teams will pitch their startup and nonprofit venture ideas to a panel of judges in the Final Showcase, competing for their share of $10,000—but this year, the experience will take place virtually.
Out of 15 teams who went head-to-head in the Center for Entrepreneurial Leadership's semifinal event on March 3, seven groups remain in the competition. With quad four of the spring semester taking place remotely due to the COVID-19 pandemic, a new obstacle has been introduced to the students' challenge to conceptualize and organize a new venture.
In anticipation of the showcase via Zoom on April 30, The Bell interviewed each team to learn about their pitches and how they are adjusting to a new avenue of collaboration. In the final installment of our series, meet three teams working to create a new "normal" within campus bounds: Prayer Ground, Jawn Supply and Gordon Rotary.
Prayer Ground—Jess Guan '21, Annie Molnar '21, Jen Tetla '21 and Sarah Waugh '21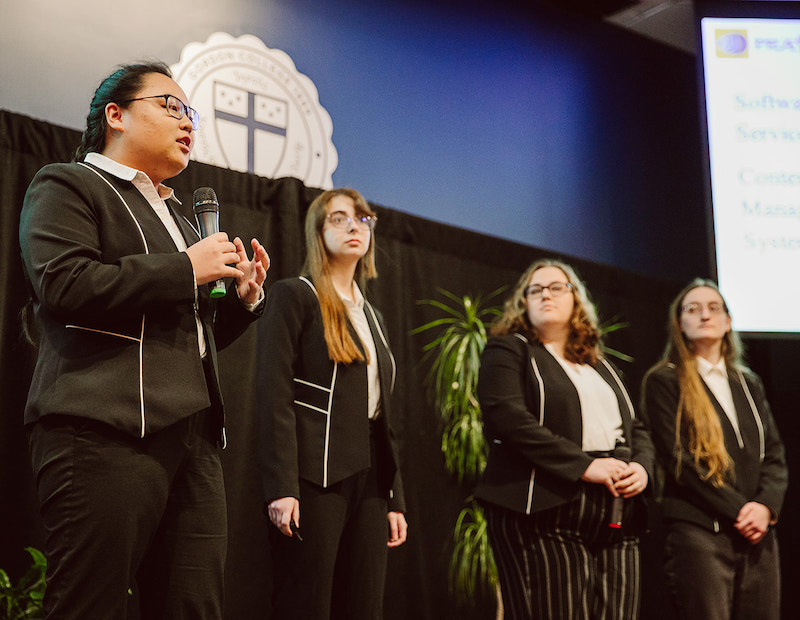 At the end of challenging a fall semester, Jess Guan '21, Annie Molnar '21, Jen Tetla '21, and Sarah Waugh '21 were closer friends than ever before. As they sat in a dorm room reflecting on a semester of personal struggles, the group felt led to make the most of their remaining time at Gordon together—and that's how Prayer Ground came to life.
The app is designed as digital bridge between old forms of community prayer meetings and new technology, where people from all over the world can post prayer requests, confessions, praises and responses to others' posts. Similar to YouVersion's list of devotionals, people can join prayer initiatives or "grounds" with their friends and grow in relationship with those in the group. Prayer Ground also offers the opportunity for companies and churches to post their own initiatives.
"We wanted to create something where people can see how their prayer requests were being handled and interacted with," says Molnar. "Everybody deserves a community to connect with."
If Prayer Ground wins the $5,000 prize, they will invest in server space to continue expanding the app beyond Gordon, domain costs and other company needs to strengthen the business.
Jawn Supply—Ben Rowe '20 and Emma Ellsworth '20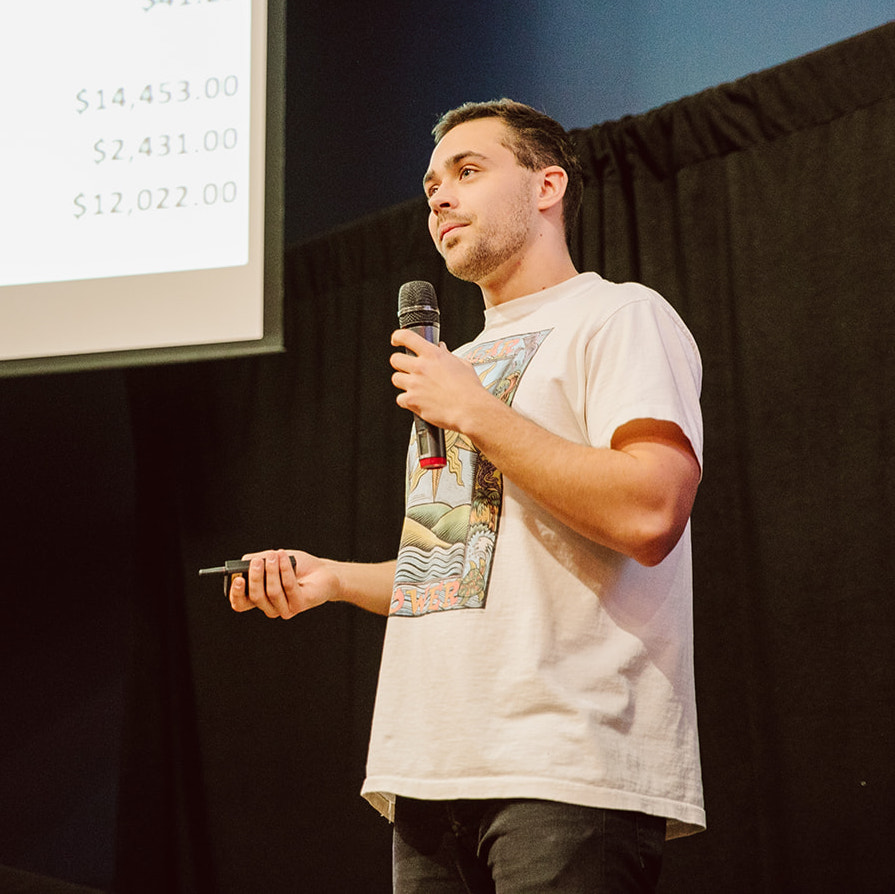 Ben Rowe '20 took his interests in fashion, photography and second-hand shopping to new heights in 2018, when he began buying, upgrading and reselling thrifted clothing in his free time to make some extra cash. That hobby eventually became the foundation for Jawn Supply: a second-hand vintage clothing store that offers unique, affordable and sustainable clothing, with a nod to the company's urban Pennsylvania roots (according to Rowe, "Jawn" is Philadelphia slang for any sort of noun, like "thingamajig").
With the help of his fiancée, Emma Ellsworth '20, and a goal of "Saving the World, One T-Shirt at a Time," Jawn Supply has accumulated a social media following of almost 3,000, selling popular brands such as Champion, Guess, Nike and Quicksilver using an online format.
While most second-hand business skip over stained or ripped items at the thrift store, Rowe and Ellsworth take pride in upcycling "unwearable" items to continue making a positive impact on the environment.
"Spreading awareness for sustainability has grown to be a driving force behind our company," says Rowe. Jawn Supply's website says 26 billion pounds of clothing are thrown away every year in the United States alone, which equals about 80 pounds per person. "If we can cut that down by even one pound a year, we could have a massive impact on this problem."
If Jawn Supply wins the first-place prize of $5,000, they will invest in higher quality inventory and a new website to attract more customers.
Gordon Roundabout—Jenny Kim '20, Isaac Bleecker '21, Phil Lee '20 and Darryl Mo '22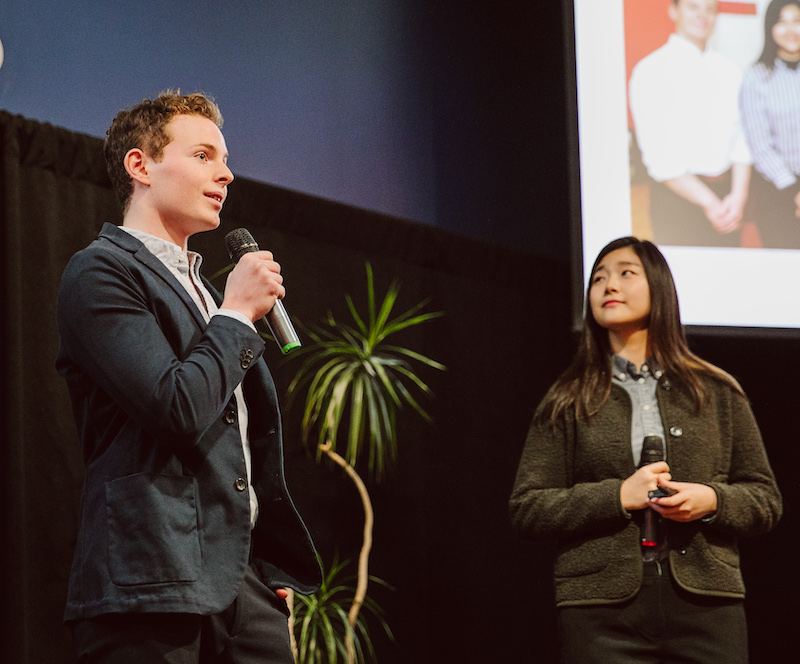 Each year, the Computer Science Department seniors aim to provide real-world experience to seniors through a seminar. This year Jenny Kim '20, Isaac Bleecker '21 and Phil Lee '20 teamed up for their final project to create an app called Gordon Roundabout.
Since the close of the Highland Express, international students have struggled to find ways to venture off campus. Gordon Roundabout will alleviate this problem and serve as a carpool app intended to build connections on campus and appreciation of the North Shore.
The app will streamline and organize the system in Gordon News where students ask for rides. On Gordon Roundabout, students, faculty and staff can advertise when they are going off campus, and offer this free service to students without cars.
Gordon Roundabout has also teamed up with Gordon College Student Association Representative-at-Large Darryl Mo '22, who helped secure program approval from the College and develop incentives for drivers that range from premium parking spaces on campus to discount vouchers at local restaurants.
"It's pretty easy to find problems, but it's often a lot harder to fix them or do something that impacts the campus," says Bleecker. "I think we're all excited about the opportunity to do that."
If the team wins the prize money, they will invest in marketing, driver incentives and legal counsel.
Tune into the Social Venture Challenge Final Showcase via Zoom on April 30 at 7 p.m. where the winners will be announced.
By Ellian Chalfant '22, communication arts and Spanish