Understanding Unconditional Love: Lessons From Reykjavik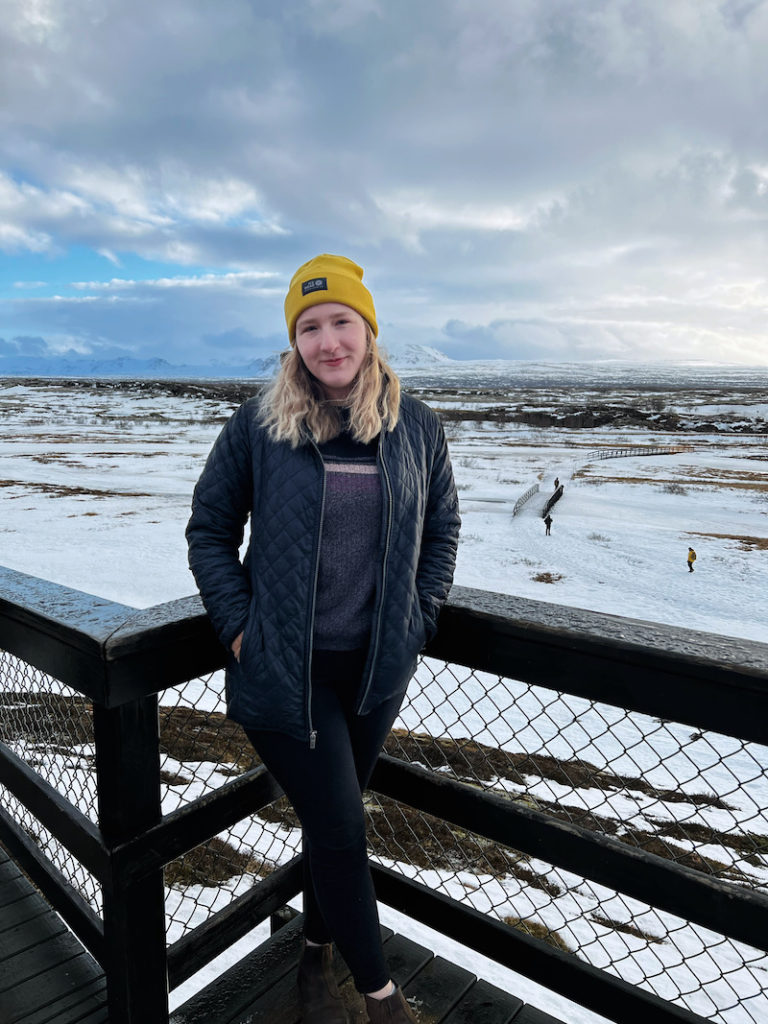 By Ellian Chalfant '22, communication arts
When I told my family that I applied for a mission trip to Iceland, the silent confusion was deafening.
"That's quite the spring break trip, huh? Maybe you'll get a tan while you're there."
I mean, can you blame them? Most seniors I know spent their last spring break with friends in sunny Florida, not bundled up in rainy Reykjavik. I'm a communication arts major with a Spanish minor, and serving in Iceland doesn't obviously fit into that arena, either.
But I knew that as a senior, it was now or never. My hopes of serving internationally during college had been thwarted by the pandemic for the past couple years, so when I saw that there was one last chance for a mission trip, I jumped at the opportunity.
Partnered with a local nonprofit ministry called Compass, a team of 19 Gordon students headed out to serve at the Salvation Army in Reykjavik. During the day, we helped the organization in any way we could. We prepared meals and fed hundreds of people, sorted clothes at the Salvation Army store, and led family game nights, to name a few of our tasks. At night, we spread our sleeping bags out on the concrete floor of the Salvation Army sanctuary, and everyone said goodnight like in The Waltons.
I definitely wasn't expecting the ultimate intercultural experience on an island as tiny as Iceland, but my team and I were transformed because of it. God surprised us, humbled us and is even now still teaching us from the experiences we had there. Here are a few things I learned:
1. Relationships transcend borders. Iceland is the most peaceful country in the world, meaning it attracts asylum seekers from some of the least peaceful places abroad. During our stay, we met people from Syria, Venezuela and Afghanistan—esteemed astronomers, journalists, lawyers and professors all coming to Reykjavik for a new beginning. One of my favorite relationships built during the trip was with Santiago and Sai, a couple who fled from Venezuela months prior. Santiago enjoyed practicing his English with me, and I was happy to break out my rusty Spanish to include Sai. There were a lot of awkward pauses, and we said, "¿Otra vez?" more times than I can remember, but I am so grateful to have met these brave, wise people whose paths mine wouldn't otherwise have crossed.
2. It may sound cliché, but God's timing truly is perfect. Just before we arrived in Reykjavik, an Icelandic influencer reposted a photo from the Salvation Army that encouraged people to donate children's clothes for asylum seekers. There was an influx of donations—hundreds of bags of clothes—at the time that our team arrived. It took days of work, but we were able to sort through almost all of the donations and organize them by size. In the next few months, they're expecting over 2,000 asylum seekers from Ukraine—and now we know they will have access to plenty of clothing.
3. We can sometimes taste heaven here on Earth. Something that struck me throughout the whole trip was how effortlessly the Salvation Army team loved anyone and everyone. There were people of all cultural and religious backgrounds—Christians, Muslims and atheists alike—walking through the doors every day for a hot meal, and everyone was treated with utmost dignity. Many of the employees we worked with weren't Christians, yet everyone came together with the same passion to see people become whole. Every tribe and every tongue were welcomed through the doors of that big red building, and their hearts were softened towards the Father—to me, that's a glimpse of heaven.