Ukraine: Alumni Reflect on Wartime Resilience, Part I
One month since Russia fully invaded Ukraine, The Bell shares a two-part series interviewing five Gordon alumni connected to Ukraine, who shared their personal insights and opportunities for the College community to lend support. Part I features three alumni who call Ukraine "home." Stay tuned for Part II, highlighting alumni who have spent time working there. Views expressed are not an official Gordon College statement.
As Kateryna "Katya" Tymchenko '09 packed a suitcase to return to Rochester, NY, after her December 2021 trip home to Ukraine, her father told her, "Pack another suitcase. Just in case." She stuffed journals, mementos and meaningful belongings to bring with her to the United States, sensing it would be her last Christmas holiday in the Tymchenkos' Kyiv home.
For alumni who call Ukraine "home" like Katya, her siblings Mariya (Tymchenko) McFadden '06 and Ilya Timtchenko '14, and Nate D'Andre '17, the current war holds deep significance and evokes complicated emotions.
Katya Tymchenko '09 | STEM MBA candidate, University of Rochester
Until Russia launched missiles on Ukraine, Katya says many did not believe conflict would escalate to this level. But the missiles confirmed a new era. "Right now," she says, "we're in the stage of asking, 'How can we be the most proactive?'" With an entrepreneurial spirit and determination to contribute from afar, the marketing professional organized three resources.
First, Katya and her sister-in-law immediately established a fundraiser to support her family and friends still in Ukraine. Within two weeks, they raised $34,000 that is already funding accommodations and food, and another round of the fundraiser is launching. Katya's background in founding Second Wind, a Ukrainian nonprofit that empowers women, means she is familiar with the difficulties refugees face when seeking a place to live. So, to aid in the process, she set up a form for her network around the world to volunteer to take in fleeing Ukrainians. Finally, Katya is collaborating with an organization on planning to launch a platform for Ukrainian refugees to learn English for free.
Three ways to get involved: First, Katya proposes advocacy. "Understand that this is not just a Ukrainian thing and it's not even just a European thing. It is a global problem," she says, and America will feel the effects, from gas prices to food supply and technology exports. Second, she suggests donating to the Ukrainian military to help fund supplies. "They're the ones on the ground fighting," she says. Third, Katya says people living in or connected with Europe can help arrange home stays for Ukrainian refugees. The displacement of women and children, she says, means many are at risk of exploitation through human trafficking.
Opportunities to support these and other initiatives can be found at standwithukraine.how.
What should we know? "It's important to know the personal stories," says Katya. "Everyone has different hearts and passions and ways of coping." While her parents take refuge with 18 others in an undisclosed location outside Ukraine, her mother feels responsible to cook and clean, while her father is compelled to help others escape. Meanwhile, close friends still there sleep in bunkers and Metro stations. "It's hard having to pick up your life and be resilient," she says. "I'm happy—if I can use the word happy in this situation—to see that the world is at least getting a little bit closer through a war. Ukrainians can go through anything, but this will change us."
Ilya Timtchenko '14 | Master of Public Policy candidate at Harvard University; former editor at Kyiv Post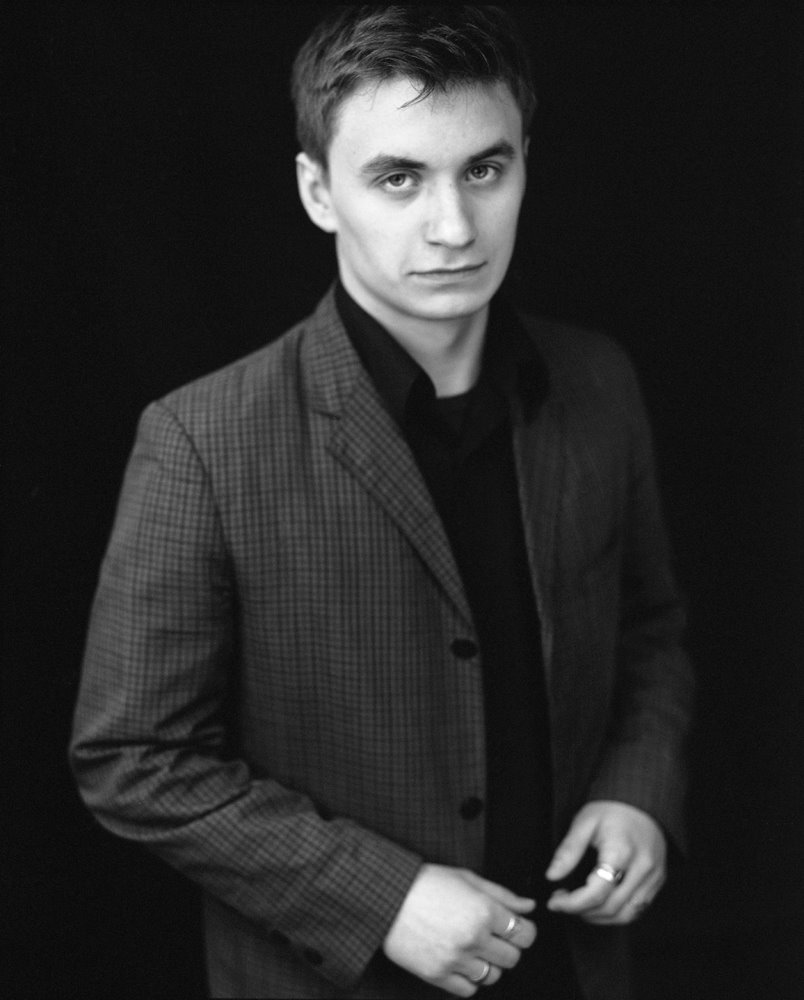 Ilya graduated from Gordon into crisis just as Russia invaded Crimea and sparked war with Ukraine in 2014. Now working toward his graduate degree nearby at Harvard as the conflict breaks into a full-scale war at home, he says, is a déjà vu. "On one hand, there are many flashbacks. On the other hand, the scale is much different. This is a full-fledged war," he says. "But despite all the emotions and the worrisome developments of what's going on, I think most Ukrainians are better prepared in understanding how to react to what's going on."
As an international affairs alumnus whose country faced historic tension, Ilya felt drawn home to work as a journalist for Kyiv Post shortly after the war began. Back in the United States and pursuing a career in diplomacy or intelligence, he's sharing firsthand perspectives on a wide scale by publishing in The Washington Post, the Harvard Kennedy School and the Atlantic Council. He says his priority is "seeing how helpful and impactfulI can be on multiple fronts." Ilya extends his sense of urgency to anyone else wanting to support Ukraine: "It needs to be now," he says.
Three ways to get involved: First, he says, reach out to local representatives multiple times per day to advocate for the United States to provide air defense. "This is crucial in terms of time sensitivity. Every day, Russians are bombing critical infrastructure" like airports and humanitarian corridors, he says. Through representatives, he says Americans can also advocate for more financial support toward Ukraine. Between humanitarian aid, military help and economic stability and more, Ilya estimates the country will need hundreds of billions of dollars to rebuild.
Second, support missionaries, whether through your own local church or organizations including World Vision Canada, which has sent people like CEO Dr. Michael Messenger '90 to serve in locations receiving refugees. "This is our time to serve," Ilya says, "this is when people are most vulnerable." Third, learn about all the Eastern European countries. Ilya explains, "every country has its own history and its own background. I think one of the main problems from a policy perspective that we see in the U.S. is that they kept on overestimating Russia and underestimating Ukraine."
For anyone looking to give financial support, Ilya recommends giving to Sunflower of Peace, a Boston-based nonprofit, and visiting standwithukraine.how for other credible fundraisers and resources.
What should we know? "Whenever you have a war and on such a big scale, we see so many injustices," he says. Ilya says Ukrainians will feel the psychological effects for a long time. "Just a few weeks ago, they were living in their houses with cars and being able to provide for themselves and for their families. Now they need to be begging. It's big switch in terms of their mentality."
Nate D'Andre '17 | Resident Director and Marriage and Family Therapy Degree Candidate, Eastern Nazarene University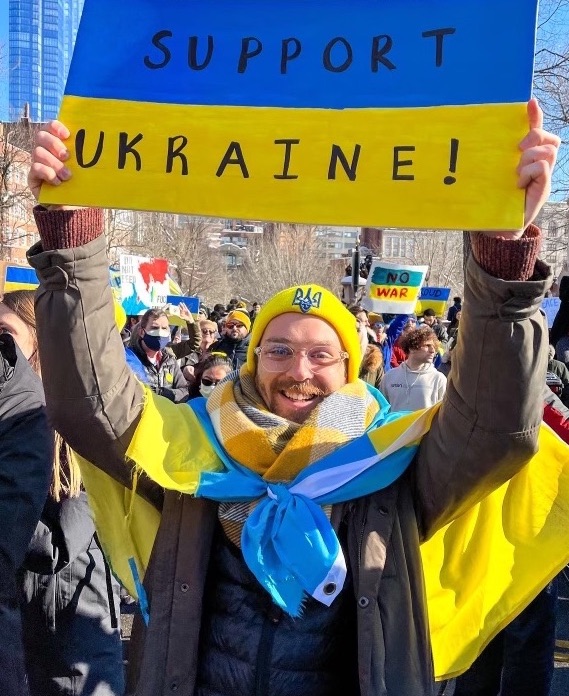 On the morning of February 24, D'Andre woke up his mother in Ukraine with a phone call from Quincy, MA, urging her to evacuate the country immediately. She escaped the same day, just hours before Russian bombs began hitting Ukraine. "This is not my first time watching the violence from a distance," says D'Andre, who was a first-year student at Gordon with family in Ukraine when Russia invaded Crimea. "I learned from that experience that this is more of a marathon than a sprint. I have to care for myself in some way, to not get over stimulated by all the details that are coming out of the Ukraine."
As the son of missionaries, D'Andre moved to Ukraine at age six, where he lived until attending Gordon. "I definitely still consider Ukraine to be a major part of who I am," he says. D'Andre's strong affinity for the country where he grew up has inspired him to attend Boston rallies supporting Ukraine. "Tons of Ukrainians come to the rallies and FaceTime their families who are in bomb shelters and say, 'Hey, we're all here with you. Stand strong,'" he reports. "The spirit of the Ukrainians is overwhelmingly hopeful and they're such a resilient people."
How to get involved: First, staying informed is validating for American Ukrainians or those with connections, D'Andre says. Digest big-picture information by following @withukraine on Instagram and learn about local rallies by following the Ukrainian Cultural Center of New England on Facebook. Second, he says it's meaningful to "go out of your way to check in on friends who you think might be dealing with grief or secondary PTSD by watching all these things. It goes a long way just to ask how you're doing."
What should we know? "When there are so many stats flying around, it's hard to remember that every number has a story. We need to keep the people affected in our hearts and prayers. And at the same time, Ukraine is not the only country that is dealing with war. Take Ukraine as an example for us to be aware of global events that are taking place. We can broaden our horizons and just be more aware of what's happening in the world and to support in any way that we can."

Visit The Bell again soon to read Part II.