When Microloans Make Maximum Impact
When Peter Vance '17 spent four months with friends in Madagascar in 2014, he was struck by the fact that most local people scraped by through subsistence farming.
Many Malagasy people "see the abundant business opportunities around them and have plans and dreams to capture those opportunities." However, due to a loan system that disqualifies "the 90 percent of Malagasy people living on less than two dollars a day," Peter explains, "they have no access to the capital or support needed for these ambitions to come to life."
In response, Peter started a co-op that provides small loans to fund the planting of clove trees; the cloves can be sold for a profit. That project became Miray Community Development, an organization that provides microloans for a range of small business owners.
Back at Gordon, Peter studied with Dr. Carter Crockett, director of Gordon's Center for Entrepreneurial Leadership. "He gave me his vision of CEL," Peter says. "His classes were awesome."
That preparation served Peter well on his return to Madagascar in the summer of 2015. While there, he gave out eight loans totalling almost $10,000 through Miray, but knew the needs were greater than the resources.
In the fall of that year, Peter enlisted friends to plan for the Social Venture Challenge, an annual competition hosted by CEL. "The coaches, workshops and pitches that the SVC provide are all incredible. We would not be close to where we are without Carter and CEL," Peter says.
The work paid off in April of 2016. Peter (pictured below, center) and his team—(L to R) Peter Nawoichik '17, Kristin Fitzgerald '17, Caleb Best '16 and Hunter Coleman '16—presented their plan before a panel of judges.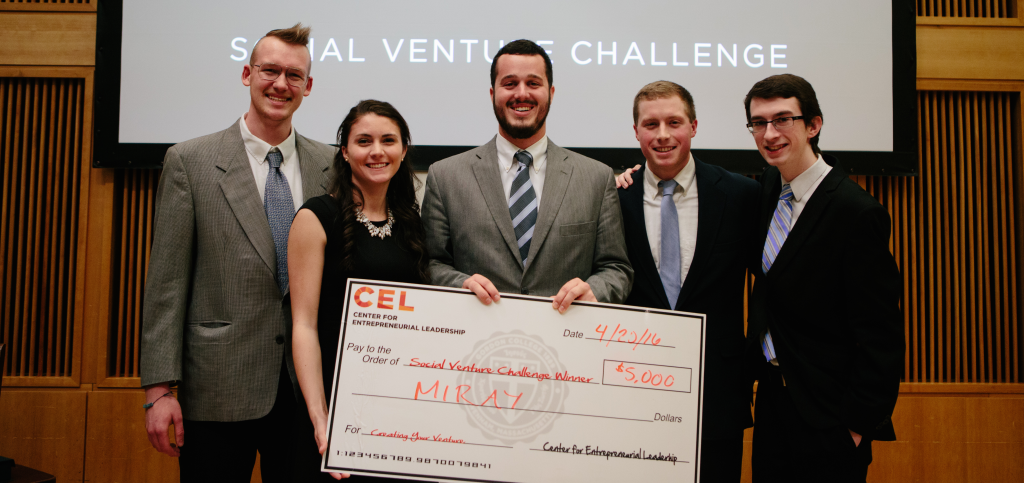 The venture won first place and $5,000 to advance Miray's goal: "to unlock the abundant potential of entrepreneurs in Madagascar by providing community-based micro lending and locally-managed business training." Now, the team is using that seed money to become an official 501(c)(3) nonprofit organization.
"The first time we gave out loans, we didn't have the structure we do now," says Peter. Now, "the program has loan officers, directors and three or four Malagasy staff in the office." Last winter, Miray gave out 65 loans.
Already, "we can see an amazing impact," says Peter. With a source of steady income, families "can afford to buy uniforms and books" so that their children can attend school. Some recipients have already repaid their loans in full, months ahead of the deadline.
Before, the "sporadic income" that these families earned "made saving and planning for the future very hard," Peter says. Now, "many people have been able to start savings accounts, which are also key to riding out unexpected events like illness."
"There's a huge demand in Madagascar," he explains. In three months, "over 500 people have come to us and put down their names on a list to receive a loan." However, "it's not us bringing big bright new ideas to Madagascar," he cautions. "It's simply finding people who already have amazing ideas and see the potential around them, and just equipping them to accomplish what they want to."
"As a college kid, there's no way I could just show up in Madagascar and say, oh I want to just start an organization," Peter says. "I rely a lot on our Malagasy staff's knowledge," which is crucial for wise business decisions.
For example, "Madagascar has 18 distinct tribes, and the city we work in is primarily one tribal group. It might make sense to go into another city of that tribe," Peter explains. But "it's hard to just walk in. You need connections with the local government, community and chieftains."
As Miray expands, Peter is enthusiastic about the future. "Every time I am in Madagascar I see the same thing," he says: "bright people with incredible ideas who just need a little money and a little training to go along with their incredible work ethic."
No matter where Miray Community Development may go, the venture focuses on "trying to meet the most needs and be sustainable," which is part of "what we do as Christians," says Peter.
­­
By Morgan Clayton '19, history