New Alum Scores Full-time Job with ESPN
Jaren Yang '18 turned down a dream gig with Major League Baseball. Why? ESPN wanted him, too.
"Initially, I was supposed to [work for] MLB and I was so set on it," Yang says. "Then a month later I get a call from ESPN saying that they still want to interview me and asking if I still wanted to go through with the process."
The recent grad who double-majored in business administration and recreation, sport and wellness, had long set his eyes on a career at the Major League Baseball headquarters in New York City—and was thrilled when they offered him a summer internship. But when he landed a full-time position as a production assistant for ESPN, he simply couldn't say no to the famed sports network.
As a lifelong fan of sports, Yang's work will be much of what he already enjoys doing in his free time: watching sports. Along with 200 other production assistants, he will review games, cut footage and produce video highlights for show hosts to use during their programs.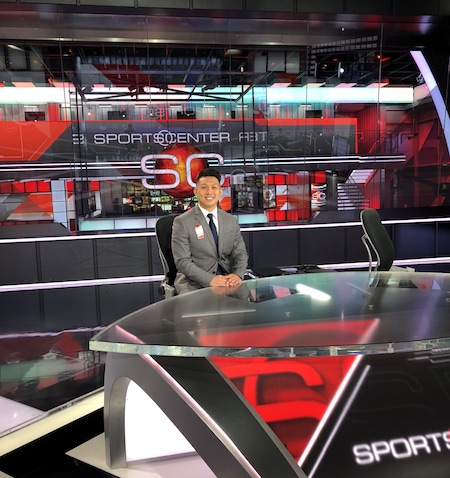 Yang began pursuing the job last summer, when he connected with Mark Stadolnik '06, a senior production manager at ESPN. Stadolnik knew of Yang's in-depth knowledge of and enthusiasm for sports, so he encouraged Yang to apply for the position and introduced him to other members of company as well as the hiring manager.
"Get yourself out there," Yang advises peers seeking job opportunities. "Put your name into someone's head," Yang suggests. "Whether it be through LinkedIn or marketing conferences—there's nothing to lose."
Thinking back on his time at Gordon and the faculty who have supported him along the way, Yang singled out Valerie Gin, chair of the Department of Recreation, Sport and Wellness.
"She truly understands each and every student in the department and takes it upon herself to get to know her students on a personal level," Yang says. "She knows what everyone wants to do after their time at Gordon and does everything in her power to make that happen. She is extremely encouraging, intellectual and generous to everyone she has the chance to interact with."
Yang's upcoming job is not only a personal win, but a mark of success for faculty, like Dr. Gin, who have spurred him on over the past four years, and who will remain invested in his life. "One of the best moments for a professor is when a student achieves a dream," says Dr. Gin. "It has been a privilege to walk alongside Jaren to encourage him to work hard and prepare him well to achieve his goals."
By Veronica Andreades '20