A Blend of Journalism and Fine Art
When you first enter assistant professor of communication arts Scott Thurman's office you might be tempted to think it's a student lounge with all the movie posters on the walls and interesting plants scattered around. But make no mistake. Thurman is not only a professor of screenwriting, digital video production and visual storytelling courses, but also an established documentary filmmaker whose movie, The Revisionaries, has won prestigious awards and is even featured on Netflix.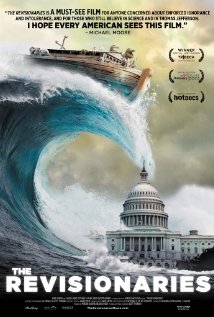 Thurman holds an associate's degree in mass communications (radio and television production), a bachelor's degree in fine art (digital imaging: photography and printmaking), and a master's degree in documentary filmmaking. He seems to have found a way to harmoniously merge these eclectic fields of study, noting, "documentary is a blend of journalism and fine art."
Since his hit film The Revisionaries started gaining attention two years ago, Gordon's Communication Arts Department was eager to have him join their team as the go-to documentary expert. Thurman is now in his second year of teaching in-depth film courses at Gordon.
What most do not know is at the same time Thurman is working on another documentary—one that hits very close to home for him. It centers around the life of Stanley Marsh, an eccentric billionaire known for his sponsorship of the Cadillac Ranch sculpture and other public art projects in Amarillo, Texas. Thurman grew up in Amarillo and was fascinated as a child by the local art he saw around town, such as artistic "mock" road signs. He slowly heard about Marsh's other projects and, Thurman says, became "interested in his personality as a work of art in itself."
Working on the Marsh documentary while teaching full-time at Gordon means that Thurman's student have the opportunity to learn from his current field experience and expertise. His classes offer, he says, "somebody who is up to date with the tools and technology that's being used and the current professional world."
Further, he says, "So I know technical aspects. But I also know right now what it's like to raise money for a film. If I'm teaching my documentary production class, I can walk them through the entire steps from pre-production research all the way through marketing and distribution, and I'm telling that from a perspective of having gone through it within the last couple of years. They have a unique window into the knowledge I'm gaining in the professional world right now."
Thurman's courses aren't just reserved for communication arts majors, but are open to anyone interested in blending a love of journalism and fine art. Anyone who, like Thurman, might draw inspiration from the father of British and Canadian documentary film, John Grierson, who said, "Documentary is the creative treatment of actuality."
By Sierra Elizabeth Flach '17, communication arts and English language and literature (creative writing)
Top photo by Anthony Farenwald '18, communication arts