Author Bob Goff and CEO Wai-Kwong Seck Preach Love and Integrity at Homecoming
With an abundance of belly laughs, memes and proclamations, New York Times best-selling author Bob Goff called Gordon to live and love with confidence at the 2018 Homecoming Awards: A Celebration of Faithful Leadership on September 28.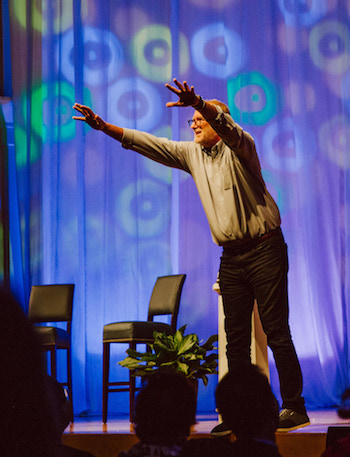 After speaking in Convocation earlier that day, Goff—founder of the human rights nonprofit Love Does and author of Love Does and Everybody, Always—kicked off Homecoming and Family Weekend with a joyful keynote address that prompted his second standing ovation of the day. From helping to build a school for girls in Afghanistan to arranging a parade for his neighborhood mailman, Goff's stories were saturated in wisdom derived from his many unconventional experiences. The bottom line: "Just love people!"
Using the apostle Peter as an example, Goff noted God's faithful hope in his people, reminding Gordon to mercifully see the potential and good in others. It was an echo of his earlier Convocation address, in which Goff exhorted his audience to remember that "the only thing that matters is faith is expressing itself through love" (Galatian 5:6).
Goff urged the standing-room-only crowd to walk with "confidence and assurance in the things that we hope for" (Hebrews 11:1) and live with faith like that of his puppy—leaping fearlessly and joyfully into the unknown.
Following Goff's presentation at the Homecoming Awards ceremony, the audience also heard from CEO of Asia Pacific for State Street Wai-Kwong Seck, recipient of the George F. Bennett Leadership Award. After being presented with the award, Seck sat down with President Michael Lindsay for a brief interview.
With a humble and modest demeanor, Seck—a major figure in the world of finance—emphasized the importance of Scripture and touched on distinctives of Christian leadership that stand out to him: leadership as a calling, submitting oneself to God and its similarity to a relay race. He gave an example of leadership done well in a secular environment, sharing how the prison system in his home country of Singapore was transformed when the authority adopted a vision and plan for holistically changing lives.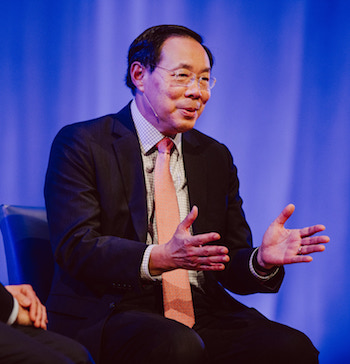 In his own field of finance—one that, Lindsay observed, is not commonly associated with morality—Seck expressed the need for integrity and trust in order to do "finance for the common good." Parallel to the transformed prison system, Seck described a holistic approach to finance: finding God's calling and taking on responsibility humbly.
Seck, an instructor in Gordon's graduate leadership program, noted the important distinctive of a Christian worldview: the ability to talk about God in the classroom. He described it as the ability to complete a circle—factoring in God closes a gap in discerning vocation. In secular contexts, Seck said, the vision is incomplete.
The speakers' presentations were accompanied by awards presented to alumni and friends of the College, all embodying the evening's theme of "love in action." Read more about the awardees honored at the 2018 Homecoming Awards: A Celebration of Faithful Leadership >>