Computer Science: Programmed for 40 Years of Ingenuity
From the Sony Walkman to the first photos of Jupiter's rings, 1979 was packed full of technological developments—and Gordon was riding the wave. Forty years since launching the computer science major and 50 since Gordon's first computer programming course, the College celebrates a history in innovation.
Building the Hardware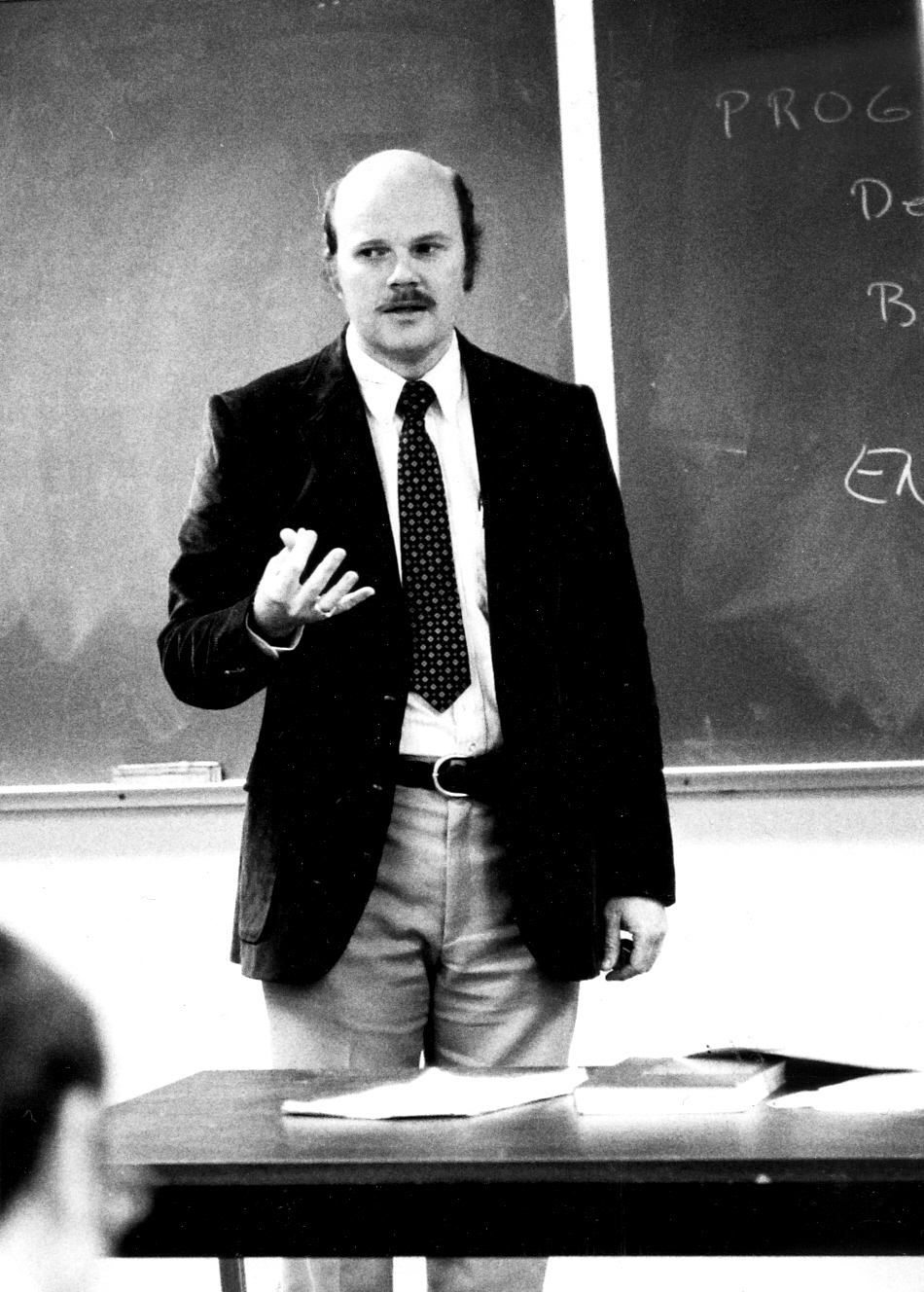 In 1980, department founder Russell Bjork, pictured right, a Gordon-Conwell student at the time, was asked to teach computer science part-time at Gordon College. Little did he know, a side job to pay for seminary would turn into a 40-year career.
Computer science was recognized as a mathematics concentration at that point, in response to growing demand and a desire graduate technologically adept students as part of the Christian liberal arts mission. To help meet these ends, Bjork was hired as a full-time faculty member later in 1980, and computer science became its own major in 1983.
Since then, 183 students have graduated with a computer science degree. They've gone on to become engineers, tech writers, project managers for technical projects, data analysts, professors, translators and missionaries. As technology developed and the College grew, the Department underwent significant changes, too—from forming Gordon's first academic program web page in 1995, to moving into new computer labs in Ken Olsen Science Center in 2011 and launching an intensive summer practicum in 2016.
Now with retirement on the horizon, Bjork looks back a fulfilling career in computer science at Gordon—from single-user PDP-12 computers in the 1980s to hiring award-winning software engineer and former Google employee Russ Tuck (pictured above, with students) in 2015.
A Network Celebration
During 2019 Homecoming and Family Weekend, the Department honored its progress and history with a reception, facility tours and a panel discussion on the importance of agile development—encouraging companies to quickly build the best prototype they can to gain as much feedback as possible, rather than gaining information on a product before creating it.
The celebration brought together students, current and former faculty, and alumni, including panelists Stephanie Powers '17, software engineer at Blueport Commerce; Simon Minor '97, website architect at Christianbook; Jeff Fraser '08, director of product engineering at Veracross; and Ryan Berger '08, principal software engineer at EBSCO Information Services. Nikki Adevai '19 shared her recent experiences from Google's office in New York City, and Christine Frandsen '18 sent a video from her apartment in Bristol, CT, describing her work as a data scientist at The Walt Disney Company, ESPN headquarters.
Programming for the Future
With the inception of the summer practicum in computer science and GoCo Tech Labs, a cocurricular opportunity for students to gain hands-on coding experiences and solve problems on campus, computer science students have been on the frontlines of bringing new technology to Gordon's campus in recent history. Addison Abbot '20 redesigned the Gordon 360 platform and interned with VMware; Travis Pullen '16 and Jonathon Manos '16 developed a quick solution for Chapel checking.
Technical acumen aside, Bjork says he believes Gordon students are made unique by viewing their work as a form of worship and find joy in creating. "You need to love what you do and recognize your place in God's created order," he says. Similarly, Tuck says inspired creativity draws people to the industry and makes them most successful. "God's the real creator, but he lets us make things out of the pieces he gives us," he says.
As for the next 40 years, Tuck is confident in what's in store for the ever-changing department. "Computer science is just getting more and more integrated into life," he says, "and people will need a certain degree of programming experience, so they understand what's going on in the workforce." As the need for computer science increases, Tuck says the Department will continue developing whole persons and challenging students to learn how to learn. He says, "I look forward to learning with the students as the field continues to change."
This slideshow requires JavaScript.
By Ellian Chalfant '22, communication arts and Spanish