Determination and Integration: Fighting HIV in South Africa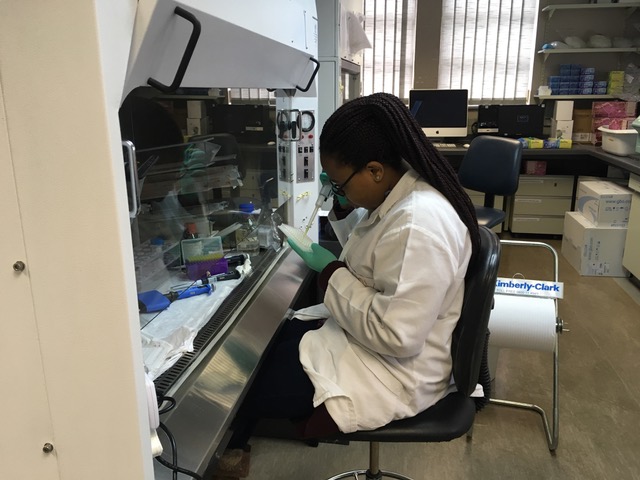 "The ultimate purpose is finding a vaccine for HIV," Tatenda Makoni '17 says of the research project to which she's contributing this summer.
A chemistry major with concentrations in biochemistry and health professions, she's in KwaZulu-Natal, Durban, South Africa, conducting research at the Nelson R. Mandela School of Medicine with the HIV Pathogenesis Programme (HPP), part of the Ragon Institute of MGH, MIT and Harvard.
For Tatenda, that isn't just an academic concern. "I have seen loved ones die from HIV in my home country of Zimbabwe," she says. "Just like South Africa, Zimbabwe has more than a 10 percent HIV rate, and my goal in this life is to help in alleviating this virus."
She had the opportunity to learn from Bruce Walker, director of the Ragon Institute, when he and his postdoctoral students visited. That was "the highlight of my internship," Tatenda says. "We were able to visit some of the programs that the Ragon is involved in," including the FRESH (Females Rising through Education, Support and Health) study.
"We're in the area with the highest prevalence of HIV," Tatenda explains. The study provides job skills training and certifications to women ages 18 through 23 and helps them find jobs. "During the time that they come for the training—nine months—they get tested for HIV twice a week," she says. If a member of the program tests positive, she can start treatment immediately.
Positive blood samples are sent to the lab for research; "the samples that I'm working on are from the FRESH study," Tatenda explains. Meeting the study participants was a moving experience, she says: "When you see the actual individuals, it's more real."
She also learned about iTEACH (The Integration of TB in Education and Care for HIV/ AIDS), a program that equips traditional healers, or sangomas, with needed resources. Most people in the region see a sangoma before a doctor if they are sick; now sanagomas can perform basic HIV and tuberculosis testing and, if needed, refer patients to a hospital.
"It's an integration of Western medicine and religion or cultural beliefs," Tatenda says. "Being able to accept other peoples' cultures, and using that to fight the HIV pandemic was eye-opening," she says. "We are fighting one thing and uniting together to eradicate HIV."
In her own research, Tatenda has a lot of responsibility. Her work "mainly involves culturing and handling HIV infected cells and lots of pipetting and vortexing," she says. "Being entrusted to work with actual HIV-infected human blood is pretty amazing to me."
This is her first research experience, and initially it was intimidating, she says, "but the whole team was very supportive."
She's encouraged by "how much faith people have that they're going to be able to fight this thing." The principal investigator who directs her lab, Dr. Zaza M. Ndhlovu, recently received a grant of $650,000 from the Howard Hughes Medical Institute for his research on a possible immunization for HIV—the same project that Tatenda is working on this summer.
Research has helped Tatenda realize that the field of medicine is not limited to healthcare practitioners. "There are other people who are working tirelessly" to find cures, she says, and "seeing that optimism and seeing that passion makes research enjoyable."
Tatenda hopes to attend medical school in the future, but meanwhile she's appreciating the range of efforts to improve healthcare. She says, "I am being blessed by such an amazing opportunity, by learning so much so that I can be able to help others."
By Morgan Clayton '19, history