Literacy STEMs from Education Efforts in Cambodia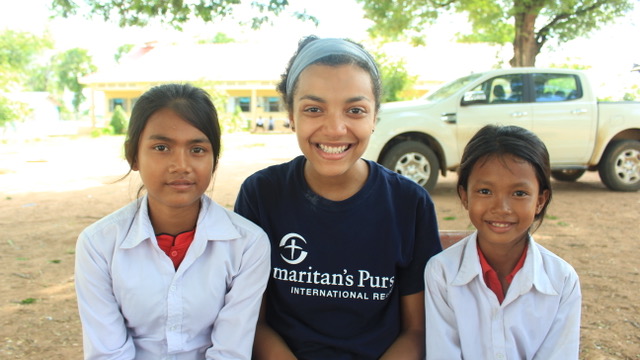 "One day I could be in the office in the city of Phnom Penh editing an education proposal, and another day I could be nine hours away from the city in a remote village having lunch with the village chief," says Jessica Harper '18 of her summer internship with Samaritan's Purse.
She's the education intern in the organization's Cambodia office, where for 10 weeks, she's putting her early childhood education and biology majors to work. Her projects address two main needs: increasing students' functional literacy rates, and advancing STEM (science, technology, engineering and mathematics) development at primary schools in rural villages.
The organization has two main education projects: "We Can Read, We Can Write," which focuses on increasing literacy rates, and "Better Teacher, Better Education" which focuses on teacher training. Both help teachers instruct primary-age students in rural areas where resources are scarce.
Jessica's work includes a broad range of tasks. "Every day is different, and I am getting a wide range of experiences," she says. She's interviewed students, teachers and community leaders to chart the impact of the programs and identify changes that could increase their effectiveness. She also researches educational approaches for developing countries, focusing on cost-effective opportunities for STEM advancement that could be used in primary and middle schools.
Later in the summer, she'll perform more classroom observations. "By actively observing teachers in rural schools, I will work to create action steps that could be taken to further develop their classroom success and teaching efficiency," Jessica explains. She'll then make a presentation about strategies that "could be implemented or changed to improve the education program," she explains.
The work of Samaritan's Purse has been instrumental in increasing the quality of education in the region. Before, Jessica explains, "in the rural villages, the educational resources were nonexistent in a particular school, less than five percent of students were functionally literate (being able to read and write basic sentences) before Samaritan's Purse came."
Access to more resources changed the situation dramatically. "After just one year of providing tool kits, teacher training, tablets and other materials, 70 percent of those same students were functionally literate," she says.
That success is promising, but improving education can also be challenging. Many students and their families suffer severe deprivation, and "seeing extreme poverty—both financially and within the education system—really takes something from you. It's hard to imagine people living like this, let alone talking with them and hearing their stories," Jessica says.
It can be overwhelming, but she's grateful for the opportunity to learn from people in different circumstances than her own and to participate in programs that increase opportunities for those children.
"It's really humbling to observe teachers in these remote schools. They are sacrificing a lot to teach, and they care so deeply for their students. The inspiration it sparks in people is contagious," she says.
That encourages Jessica in her own work. "I've always had a heart for kids, education and global development opportunities," and her internship "blends so many of my passions together into one. To have the chance to join the effort to improve education for Cambodian children is amazing."
By Morgan Clayton '19, history