If I take the wings of the dawn . . . : "Deepening the Faith" devotional 13
This installment is part of a regular devotional series, "Deepening the Faith," written by Gordon faculty and staff for the enrichment of the wider College community.
Where can I go from Your Spirit?
Or where can I flee from Your presence?
If I ascend to heaven, You are there;
If I make my bed in the grave, behold, You are there.
If I take the wings of the dawn,
If I dwell in the remotest part of the sea,
Even there Your hand will lead me,
And Your right hand will lay hold of me.
If I say, "Surely the darkness will overcome me,
And the light around me will be night,"
Even the darkness is not dark to You,
And the night is as bright as the day.
Darkness and light are alike to You.
—Psalm 139:7-12
In this stunning passage from the poetry of King David (of David and Goliath fame), there is a clue to our humanity and to the inexorable love of God for human beings—broken and weak as we are. In his poetry (the Book of Psalms), David is often crying out from a place of depression, insecurity and even paranoia. He was a warlike, embattled ruler with a generous but also duplicitous heart. He was barely more than a savage from our current civilizational standards, and he lived among savage enemies. He was always on the alert to defend his people and his reign—but he was also imaginative, filled with wonder and a consummate artist. In this passage from Psalm 139, the poet cries out to God in wonder and praise—in essence, "No matter where I go, I know you are near!" In these verses David declares the faithfulness and mystery of God's involvement in our lives.
We often enter "darkness" and sometimes feel cut off from light and peace—such that we wonder if God even exists at all. But the poet insists that God is right there in the darkest places—intimately acquainted with all our trials and doubts: "Surely the darkness will overcome me, / And the light around me be night, / Even the darkness is not dark to You." To God our human fears are the occasion of love and care. There is nothing that can separate us from God's love: "Even the darkness is not dark to You." And in the biblical understanding of "darkness" there is evil: cruelty, theft, lying, prideful posturing, power-hunger, lust, greed and a multitude of dark-hearted human errors. But even there—in the darkest precincts of the human heart, God is present and undaunted in his love and involvement in our lives—if we invite him in.
The poet points us toward a place of equanimity in difficult times. Finding the "peace which passes understanding" requires that we have faith in a God who is intimate with every aspect of our lives. Take time to consider if, indeed, you have felt God's presence in times of trial. Reach out to God in childlike trust and wonder.
God will be there waiting.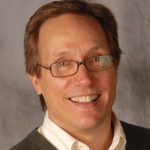 Bruce Herman
Professor of Art
Lothlórien Distinguished Chair in the Fine Arts
Director, Gallery at Barrington Center for the Arts
Bruce Herman joined the faculty in 1984 and became the first chair of the Art Department in 1988. His primary focus as a teacher and artist is figurative painting. He received the Junior Distinguished Faculty Award in 1992 and was awarded the first fully endowed distinguished chair at Gordon in 2006. His art has been exhibited internationally and is housed in museums such as the Vatican Museum in Rome, the Armand Hammer Collection in Los Angeles, and locally at the DeCordova Museum in Lincoln, Massachusetts.
Bruce's multifaceted work also speaks for Gordon College: For nearly 30 years, he has been instrumental in the founding and flourishing of the College's art major. Now the Lothlórien Distinguished Chair in the Fine Arts, he remains a catalyst for change at Gordon—transforming blank canvas into lush image, an old gymnasium into a first-class center for the arts, fledgling artists into mature, inspired painters.